Monday, November 01,2021 / 08:50AM /WIMBIZ/ Header Image Credit: WIMBIZ

Women in Management, Business andPublic Service (WIMBIZ) held its iconic Legends Ball in recognition and celebrationof twenty female living legends in Nigeria.
The exclusive evening-gown event, tomark WIMBIZ's 20th Anniversary, held on October 30th inLagos. Dr Ngozi Okonjo-Iweala, Lady Maiden Alex Ibru, Prof. Ibironke Akinsete, Onyeka Onwenu, Chief Mrs Kofo Olawoye; Dr SarahJubril, Chief Nike Davies-Okundaye and Chief Dr Onikepo Akande, OON, CON wereamong the recognized female pioneers, who through sheer audacity have brokenbarriers for women and achieved incredible feats in their different endeavours.
Speaking about the legends, IfeyinwaIghodalo, Chairman, Board of Trustees, WIMBIZ said: We are celebrating femalelegends who dared to challenge the status quo when nobody else could andsucceeded."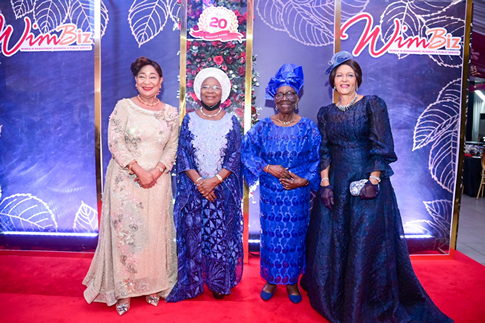 In addition to recognizing the femalelegends, Mrs. Ighodalo emphasized that WIMBIZ has built an institution that isbeyond its trustees. "As a founding trustee, I am excited to see younger womentake on leadership roles within the WIMBIZ community, 10 years ago, havingmentored and worked with our current leaders, we passed on the baton ofleadership to them and its been graceful watching them flourish."
The WIMBIZ Legends Ball is one in aseries of pre-conference events leading to the 20th WIMBIZ AnnualConference set to take place on November 4th and 5th,2021. Confirmed speakers for the Conference are Director-General of theWorld Trade Organisation, Ngozi Okonjo-Iweala; Economist and Founder, StanbicIBTC Bank Plc, Atedo Peterside, CON; former Chairman, First Bank of Nigeria,Ibukun Awosika, as well as Founder, Guaranty Trust Bank Plc (now GTCo) and FATEFoundation, Fola Adeola.

Related News
1. WIMBIZ Celebrating Legacy @ 20;Unveils Conference Details
2. Wimbiz encourages Women toRebuild, Recalibrate and Embrace the Shift
3. WIMBIZ 19th Annual Conference
4. Communique for 2020 WIMBIZWomen in Politics (WIMPol) Webinar
5. Highlights of the WIMBIZCOVID-19 Relief Project
6. WIMBIZ 2019: Nigeria MustImprove Its Global Ranking On Gender Gap - Erelu Bisi Fayemi
7. FBNHoldings Partners withWIMBIZ Annual Conference to Promote Women Economic Empowerment
8. Women in Management, Businessand Public Service (WIMBIZ) 18th Annual Conference - Nov 7-8, 2019