Monday, November 08, 2021 /05:50 PM / WIMBIZ / Header Image Credit: WIMBIZ

Women in Management, Business and Public Service(WIMBIZ) held its 20th Annual Conference on Thursday 4thand Friday 5th, November 2021. The hybrid event, themed CelebratingLegacy, was a celebration of the non-profit's 20 years of impacting women inNigeria and beyond, based on the foundation built by its founders.
Speakers charged delegates to build formidable legaciesand emulate pace-setters who have shattered glass ceilings, overcome adversity,broken stereotypes, enabled empowerment and created opportunities for all.
Speaking to WIMBIZ's legacy, Chairperson, ExecutiveCouncil, WIMBIZ, Ngover Ihyembe-Nwankwo, in her welcome address acknowledgedWIMBIZ's intentionality as a catalyst which inspires, connects and empowerswomen, as well as its resoluteness in the promotion of gender diversity,sustainability and inclusive prosperity.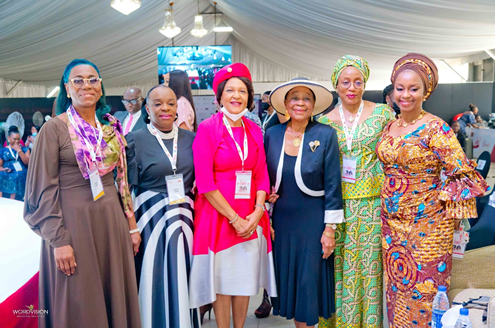 In his keynote speech, Founder, Guaranty Trust Bank Plc(now GTCo) and FATE Foundation, Fola Adeola, OFR, mni. lauded the seamlesstransitions of leadership within WIMBIZ's 20 years' existence and the sacrificeof personal ambition for the common good in this regard. In his view, theWIMBIZ vision was clearly worked for, shared and realised in a society thatscavenges on insecurities.
The event's diverse panel of speakers, provided practicaland transformative insights on topics such as 'Legacy: Build to Last', 'SharingStories: How I Changed The Narrative' and 'Owning The Future: Women inLeadership.' Other keynote speakers included the Director-General of the WorldTrade Organization, Dr. Ngozi Okonjo-Iweala; Founder, Stanbic IBTC Bank Plc, Anap Business Jets Limited and AtedoN.A. Peterside Foundation, Atedo Peterside, CON.
The Annual Conference is WIMBIZ's flagship event whichholds in November of each year with an average attendance of over 1500delegates to deliberate on a contemporary theme with a broad range of topicalissues that are relevant to women in the business, corporate, public anddevelopment sectors.



RelatedNews
1. WIMBIZRecognizes and Celebrates 20 Female Trailblazers at Legends Bal
2. WIMBIZ Celebrating Legacy @ 20; Unveils Conference Details
3. Wimbiz encourages Women to Rebuild, Recalibrate andEmbrace the Shift
4. WIMBIZ 19th Annual Conference
5. Communique for 2020 WIMBIZ Women in Politics (WIMPol)Webinar
6. Highlights of the WIMBIZ COVID-19 Relief Project
7. WIMBIZ 2019: Nigeria Must Improve Its Global Ranking OnGender Gap - Erelu Bisi Fayemi
8. FBNHoldings Partners with WIMBIZ Annual Conference toPromote Women Economic Empowerment
9. Women in Management, Business and Public Service (WIMBIZ)18th Annual Conference - Nov 7-8, 2019