Wednesday, February 17, 2021 / 08:30AM / By FCMB Business Zone / Header Image Credit: Northeastern University

We are in adigital world where DATA is referred to as "the new oil" because of itseconomic power; just as OIL was in the industrial age. With data, businessowners can now make more informed decisions regarding their customers,processes, platforms and people. The ability to collect, process and analysedata effectively is one of the reasons big tech companies like Google,Facebook, Amazon, Apple and Microsoft continue to thrive in today's world.Similarly, small and medium scale enterprises are beginning to understand andappreciate the use of data for product development, customer management,financial management and more, to improve their service delivery, reduceinefficiencies and attract new customers.
Data issimply any information that can be translated into a machine-readable form. Asa small business owner, you should not assume that making decision usingdata is only applicable to large organisations, rather you should embrace andincorporate the collection, processing and application of data driven insightsin your business process in order to ensure you develop strategies andactivities that benefit the business while gaining an edge over yourcompetition.
Some datatypes available to small businesses include customer data, employee data,transaction data, web, and social media data, etc. With data, it is easier to know what worksand what does not as a business owner. Thus, it is important to collect data nomatter how minute it seems.
Want to turn numbers into inspiring stories and create compelling datadashboards for driving strategic data-driven decisions? Join the Data ScienceNigeria Vizualisation Masterclass from February 27, 2021. Click HERE to register orsend a message to [email protected]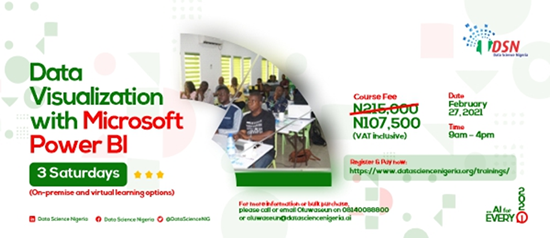 In thisarticle, we discuss some data types and give tips regarding how they can betracked and used in making decisions.
CustomerData
Thisincludes all personal, behavioral and demographic information about the peopleand businesses you serve. Customer data is essential to understand yourcustomers' expectations and how your business can meet them. This data can becollected through your website, email, SMS, social media platforms, surveys,sign up forms or one-on-one interaction on call or in person.
It is notenough to collect these data, it should be stored and processed using customerrelationship management tools such as hubspot, Zoho or Salesforce which havefeatures for lead tracking and management, sales forecasting, email marketingand integration with other tools. Analytical tools such as google analytics andsocial media analytics are also easy-to-use tools that can be adopted toimprove and optimize online marketing initiatives.
Some of theinsights you can gather from processing these data include how often purchasesare made using a particular channel e.g. social media; the days and time youget more sales; the persona of customers that purchase from you the most; theproducts / brands they buy the most; their interests; the devices they use;their location, etc.
With theseinsights you can target your message appropriately to the channels that work,develop products that meets the needs of the demography type that purchase fromyou the most and introduce attractive offers on the days or time you have themost visits to your platform.
FinancialData
This includeinformation related to monetary transactions within your business. Thisinformation is often seen in the financial statements of an organization, thatis the balance sheet, profit and loss or cash flow statement. For everybusiness owner, analysing this data helps to understand the revenue and costdrivers of your business. In addition, it helps to plan adequately and answersalient questions that can help gain insight into specific areas of thebusiness.
Forinstance, you can ascertain the products or line of business that generate thehighest sales, the impact of marketing expenses on sales, and budget / planahead for future expenses such as the purchase of new assets or expansion intoother business ventures. In addition, information in the balance sheet helps todetermine liquidity, solvency and the future viability of the businesscontinuing operations.
EmployeeData
This refersto all employee related information collected by any business. It includes butis not limited to personal information about employees as well as informationabout their work performance. Insights from employee data enable businessowners effectively manage the hiring and talent management processes of thebusiness.
Some otheradvantages of employee data include the measurement of training initiatives onproductivity, the alignment of employee behaviour with the business' goals andobjectives, and the assessment of factors that result in high turnover orretention with the business. Overall, it is important to understand the needsof your employees in order to ensure they are productive and work towards theachievement of the business objectives.
Toeffectively, track and make informed decisions using data you need to:
1. Have specific objectives you want to achieve and thequestions you want answered.
2. Ascertain the type of data you need to collect.
3. Identify the sources of the data you need and thetools needed to collect them.
4. Adopt management tools that can enable you store andanalyse the data collected.
5. Take action based on the insights gained from the dataanalysed.
6. Monitor actions taken and ensure continuity in the useof data by ensuring you and your employees get trained where necessary.
Like AndrewChen, ex-Head of Rider Growth at Uber said "It's important to leverage datathe same way, whether it's a strategic or tactical issue: Have a vision forwhat you are trying to do. Use data to validate and help you navigate thatvision, and map it down into small enough pieces where you can begin to executein a data-informed way. Don't let shallow analysis of data that happens to becheap/easy/fast to collect nudge you off-course in your entrepreneurialpursuits."
While it isimportant to collect data and leverage on them to make informed decisions, itis also critical to ensure compliance with all data protection and governanceregulations to avoid sanctions which can be detrimental for your business. Youshould also ensure to keep yourself and your team abreast of information anddata security threats while ensuring to have in place measures to help mitigatethese risks.
Credit: This post first appeared on FCMBBusiness Zone HERE
Previous Posts for Small Business Owners
1. Why Small Businesses Need aDigital Presence
2. The Legal Side of Doing Business in Nigeria: ComplianceChecklist You Need as a Small Business Owner
3. Effective Ways to Fund a Small Business in Nigeria
4. Financial Strategies to Help Grow Your Business as anEntrepreneur

Related News
1. FCMB Deepens Financial Inclusion,Opens Ultra-Modern Cash Centre At Ikorodu, Lagos
2. Data Visualization Training by Data Science Nigeria toCommence from February 27, 2021
3. Data Protection Audit for 2020 Financial Year - HowCompliant is Your Organisation?
4. Ecobank MD, Others List Opportunitiesin Digital Financial Inclusion
5. 16.8% Financially Excluded NigerianAdult Must be Brought into the Inclusion Bracket by 2020
6. Leveraging Non-Interest Finance forFinancial Inclusion
7. PSBs as the Key to Driving FinancialInclusion?
8. Leadway Partners AWABAH to ProvideFinancial Services to The Informal Sector
9. WFIS Africa: World FinancialInnovation Series 2020
10. Alan Sinfield, and OtherProfessionals to Speak at Ecobank Digital Financial Inclusion Summit
11. Nigeria Faces Significant and GrowingGender Gap in Financial Inclusion
12. Data Science Nigeria Wins the Best PosterAward at the Global EC20 Conference
13. Identification Management: The Key toDigital and Financial Inclusion in Nigeria
14. The Implication Of COVID-19 OnFinancial Inclusion And Financial Literacy
15. CBi Nigeria to host Webinar focusedon Nation Building and Data Management
16. COVID-19 Rebound: BuildingEntrepreneurs and Supporting Financial Inclusion Through Xpress Point
17. Regulatory Flexibility and AgencyBanking Will Enhance Financial Inclusion in Nigeria - Henry Chukwu