Tuesday, November 02,2021 / 09:18 AM / by Coronation Research / Header ImageCredit: US News Money

What is the rational response to Naira interest rates that are wellbelow inflation? The answer is both to take risk and to avoid it. Investors aretaking risk by buying Nigerian equities, which performed very well last yearand continue to perform this year. But they are also buying US dollar MutualFunds to protect themselves from potential Naira devaluation.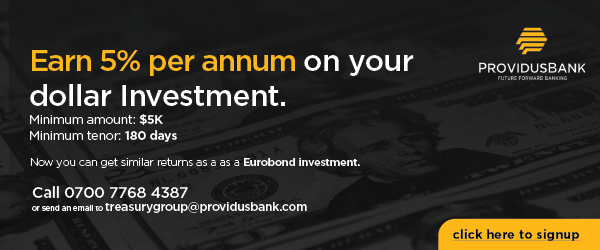 FX
Last week, the exchange rate at the Investors and Exporters Window(I&E Window) weakened by 0.01% to N415.10/US$1. In the meantime, theCentral Bank of Nigeria's (CBN) foreign exchange (FX) reserves rose by 2.13% toUS$41.83bn, the highest level since 30 September 2019 and marking their tenthconsecutive weekly accretion. FX turnover on the official markets has beenrising recently, contributing to a degree of stability in the I&E Windowrate, but it still remains low in comparison with levels seen in previous years.Therefore, our view remains that there may be continued pressure on theofficial and parallel exchange rates if the CBN does not further increasesupply.
Bonds & T-bills
Last week, activity in the Federal Government of Nigeria (FGN) bondsecondary market was bullish. Consequently, the average benchmark yield forbonds fell marginally (- 11bps) to 11.28%. On benchmark notes, the yield of the10-year (-31bps to 11.76%), 7- year (-15bps to11.56%) and 3-year (-1bp to9.21%) FGN Naira-denominated bonds contracted. We maintain our expectation thata future rise in bond yields, if any, is unlikely to be sharp over the rest ofthe year due to unaggressive borrowing as the DMO manages its debt servicecosts.
Trading in the Treasury Bill (T-Bill) secondary market was bullishfollowing improved system liquidity from FGN bond coupon payments and OMOmaturities. Consequently, the average benchmark yield for T-bills fell by 5bpsto 5.33%. The annualised yield on a 349-day T-bill settled at 7.16%. At theT-bill PMA, the DMO allotted N235.05bn (US$571.89m) worth of bills across alltenors. The stop rate on the 364-day bill dropped by 26bps to 6.99% (annualisedyield: 7.51%), while the rates on the 91-day (2.50%) and 182-day (3.50%)remained unchanged. Demand was strong with a total subscription of N431.12bn,implying a bid-to-offer ratio of 2.87x (versus an average of 1.56x at the lastfour auctions). Elsewhere, the average yield for OMO bills fell by 7bps to6.37%, while the yield on a 340-day OMO bill settled at 7.09%.
Oil
Last week, the price of Brent fell by -1.34% to settle atUS$84.38/bbl, marking its first weekly decline in eight weeks. Year-to-date,Brent is up 62.90% and has traded at an average price of US$69.55/bbl, 60.92%higher than the average of US$43.22/bbl in 2020.
The decline in oil prices followed Iran's announcement that talkswith world powers on its nuclear programme would resume by the end of November,bringing the prospect of a significant volume of Iranian oil reaching globalmarkets. In addition, according to the U.S Energy Department, U.S. crude stocksrose by 4.3m barrels last week, more than double the 1.9m barrel gain expectedby analysts, suggesting that demand is currently weak.
On 4 November, the Organization of the Petroleum Exporting Countriesand its allies (OPEC+) are scheduled to meet, with analysts expecting them tomaintain the plan to add 400,000 b/d of supply in December, a slow return tonormal levels of production that may contribute to keeping prices strong in themedium term. We reiterate our view that the price of Brent oil is likely toremain well above the US$60.00/bbl mark over the rest of the year
Equities
The Nigerian equities market recorded its seventh consecutiveweekly gain, advancing by 0.66% to close at 42,038.60 points, its highest levelsince 2 February 2021. Consequently, the year-to-date return rose to +4.39%.Guinness Nigeria +23.05%, Cadbury Nigeria +18.13%, PZ Cussons Nigeria +8.47%and International Breweries +8.25% closed positive last week, while FBNHoldings -9.80%, Dangote Sugar Refinery - 5.56%, Stanbic IBTC Holdings -4.88%and Ardova -3.31% dropped points. Sectoral performances were bullish as the NGXInsurance index led the gainers, rising by +5.28%, followed by NGX Oil &Gas +4.04%, NGX Banking +2.43%, NGX Consumer Goods +1.52% and NGX Industrial+0.49% indices.

The Rise of US Dollar Mutual Funds
Earlyin October, we explained that spreads in the Naira fixed income markets havewidened since the collapse of rates during 2020 (see Coronation Research,"Nigerian Fixed Income still a tough sell", 4 October). As a result,we saw 1-year T-bill rates expand to as high as 10.70% in May 2021, asinvestors continued to demand higher yields at auctions. However, by the end ofOctober 1-year T-bill rates had settled at 7.66%. This compared with annualinflation of 16.63% (as of September).
In2020 the reaction of Nigerian investors was to seek risk assets such asequities. As a result, the NGX All-Share Index returned 50.03% that year. Thisyear the equity has enjoyed moderate support as a company, and bank earningshave increased. The first-half (H1) results impressed across the major non-bankstocks, while bank stocks were mixed. So far, the season for 9-Month 2021results is underway, with decent performance across the board. As a result,the NGX ASI is up 4.39% year-to-date. In our report (see Coronation Research:Nigerian Stocks in 2021, 27 September), we showed that equities have begun tolook attractive, with a few stocks generating higher dividend yields than the1-year T-bill. Certain stocks like Zenith Bank, Guaranty Trust Holdco, UBA andMTN Nigeria have expected dividend yields between 6% and 14%.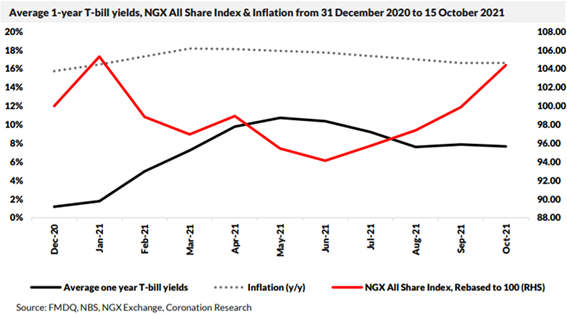 Many individual investors gain exposure to Nigeria's financialmarkets by buying mutual funds. In Nigeria today, there are seven categories ofpublicly-listed mutual funds: Money Market funds, Ethical Funds, Mixed Funds,Fixed Income Funds, Equity Funds, Real Estate Funds and Bond Funds. However,between 31 December 2020 and 15 October 2021, the combined Net Asset Value ofall the regulated mutual funds declined by 13.62% from N1.49trn (US$3.63bn) to N1.29trn(US$3.14bn). This decline was primarily driven by an exodus of N201.45bn fromMoney Market funds, whose performance is dependent on the returns ofinstruments like T-bills, promissory notes and commercial paper. These have notbeen able to compensate for inflation, leaving investors to look elsewhere.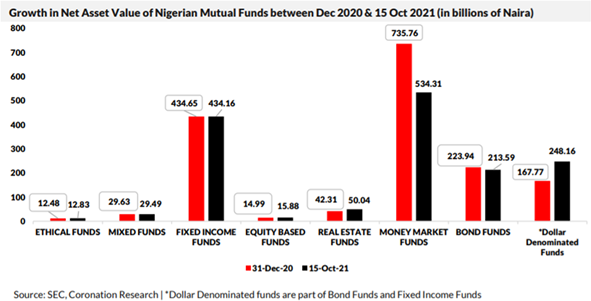 We have seen a significant rise in US dollar-denominated fundsgrowing by 48% from N167.77bn to N248.16bn between 31 December 2020 and 15October. These are typically invested in sovereign Eurobonds, corporateEurobonds, money market instruments, and foreign equities, as the Securitiesand Exchange Commission permits.
With Naira inflation stubbornly in double digits and sub-inflationreturns on Naira T-bill and Fixed Income investments, it appears that manyinvestors are pursuing currency diversification and a guard against potentialNaira devaluation.
ModelEquity Portfolio
Last week the Model Equity Portfolio rose by 0.29% compared with arise in the NGX Exchange All-Share Index (NGX-ASI) of 0.66%, thereforeunderperforming by 37 basis points. Year to date, it has gained 6.79% againstagain in the NGX-ASI of 4.39%, outperforming it by 240bps.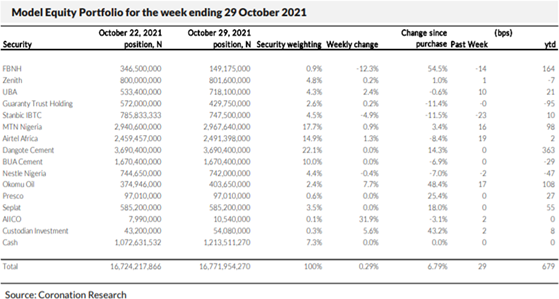 The problemlast week was our notional overweight position in Stanbic IBTC, a stock inwhich we have a lot of conviction but whose 9-Month 2021 fell some short of ourexpectations. It fell 4.9% last week and cost us 23bps in performance. Our lossin FBN Holdings was to be expected, and as earlier advised, we had cut ournotional position in it. Our next problem was not participating in the rise oftwo brewing stocks, Nigerian Breweries and Guinness Nigeria. We do not yet haveconviction in these stocks, so their rise presents us with relative performancecosts.
Going forwardwill continue to build our notional position in Custodian Investment. We willmeasure the positions of our significant holdings to make sure they are not toofar out of line with the big-four index weights (MTN Nigeria, Airtel Africa,Dangote Cement and BUA Cement), and we will examine our overweight position inbanks.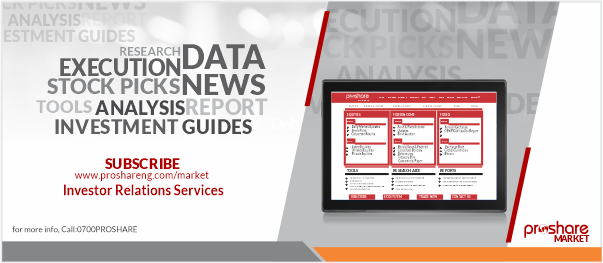 Relatedto Coronation
1. What Happens to Nigeria if USEquities Fall?
2. Another Bull Market inEquities?
3. Nigerian Fixed Income Remains a Tough Sell
4. Nigerian Stocks: Worth a SecondLook
5. Taking Stock of the LDR Policy
6. Nigerian Banks: H1 2021Scorecard
7. Interest Rates and Banks'Margins
8. WhyEquities Have Been So Bad
9. Dividend Yields andInvestment Returns
10. TheRole of Dividends in Total Return
11. WhyYou Need to Study Total Equity Returns
12. FXPolicy Deja Vu
14. Inflationon the Downtrend -OpEd by Coronation Research
19. OilPrices and Foreign Exchange (FX) Reserves
21. Slow GDPPoints to MPR Rate Hold
22. Comparing Mutual Funds,Apples and Oranges
23. Transparencyand Foreign Direct Investment
25. NairaBonds Sell-Off, US Bonds Rise
28. MonetaryPolicy Rate Decision
29. Inflationand Interest Rates
30. The US 10-Year Bond andNigeria
31. T-Bill Rates HeadingTowards 10.0%
32. Q42020 GDP and the Implications for Markets
33. Eurobondsand Foreign Financing
35. NigerianGDP Better Than Thought
38. Interest Rates on the Rise
39. Oil Above US$50.00 per Barrel
42. CBN Likely to Leave MPR at 11.50%
43. Second-best Equity Market in the World
44. TheBiden Effect
45. US Dollar Eurobond Yields Now HigherThan Naira Yields?
46. Fiscal and Monetary Response toEvents
47. Winners and Losers in Africa
48. The Return of the Equity Market
49. Which Way for Interest Rates?
50. Coronation Research Releases Report Themed: From Savings toMutual Funds
51. A Case of Eurobond MarketContagion
53. The Policy Mix and The Markets
54. The Oil Price and ProductionParadox
55. Cracks In The Bond Market?
56. No Big Change in FX Policy
57. Coronation Research Releases Outlook for Insurance Sector -From Lagoon To The Blue Ocean
58. Micro-Insurance, Tech, Key toDeepening Nigeria's Insurance Sector - Coronation Research
59. Navigating the Capital Market:The Investors' Dilemma
60. Market Interest Rates Back Up- Coronation Research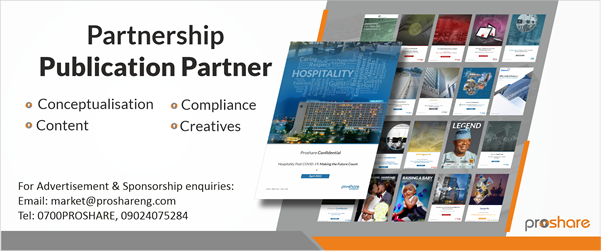 Related News
1. SEC Commences 100% Custody Requirement in CIS
2. Norrenberger Reiterates Commitment to SimplifyingWealth Creation, Launches Money Market Fund
3. FBNQuest Reiterates its Commitment to help investorslook Beyond Today
4. The Mutual Funds Market in Nigeria Needs HarmonizedAccounting Standards - Guy Czartoryski
5. Mutual Funds Industry Records N1.6trillion TotalAssets In 2020
6. FBNQuest Mutual Funds Outperform 5-Year Benchmarks
7. What is an Environmental, Social and Governance Fund?
8. NCM 2020: Bond Funds Grew By 443.80% YoY in 2020
9. CardinalStone Asset Management Launches Its PremierMutual Fund