Wednesday, May 11, 2022 / 11:24 AM / by FDC Ltd / Header Image Credit: Agusto
On the 13th of January 1977, General Obasanjo-led military government gazetted the Price Control decree. On Schedule 1 of the Decree, item 14 to 17 specifically listed kerosene, petrol, diesel, and fuel oil respectively as part of the 25 items included in the price control regime.
Price control never works
The enactment of the Decree was occasioned by the spillover effect of the global Great Inflation of the 1970s which was bookended by excess liquidity and energy price crisis. The response of the Nigerian government was to protect her citizens from the excruciating pains orchestrated by the Great Inflation. But given that energy prices were elevated at the time, the only way to achieve a floor price regulation was to subsidize the petroleum products. And this marked the birth of petroleum product subsidy in Nigeria. Since 1977, Nigeria has been locked into an intractable subsidy regime that, perhaps, has cost more pains than pleasures.
Subsidy pricing template reinforces inefficiency
Technically, petroleum subsidy is a consumption of subsidy that aims at improving consumer welfare through access to petroleum products that it may otherwise not afford. Thus, petroleum subsidy is the difference between the expected open market price (EOMP) and the government approved pump price of petroleum product. In calculating the EOMP, the Petroleum Products Pricing Regulatory Agency (PPPRA) uses a pricing template which includes the sum of landing costs (which is the summation of all costs incurred including purchase cost from foreign refineries, costs of shipping and port charges), the cost of distribution in Nigeria and the profit margin of the various actors/dealers.
Between 1977 and 2022, crude oil price has increased by over 640% from average of $13.9 in 1977 to $103.2 in 2022 and this has led to larger-than-expected bulge in the costs of petrol subsidy. Moreso, the price of PMS has also ballooned by over 39,186% from N0.42 in 1977 to N165 in 2022. But this increase in the price of PMS does not offset the impact of increase in the international price of crude on subsidy payment. This is because exchange rate with a correlational coefficient of 0.97 with PMS pump price also depreciated by 64,916% from N0.64/US$ in 1977 to about N416.11/US$ in 2022.
The near-one correlation suggests that increase in the domestic price of PMS is driven much more by exchange rate depreciation. The natural consequence is that the increment in international crude price will largely reflect in overshooting increment in subsidy burden.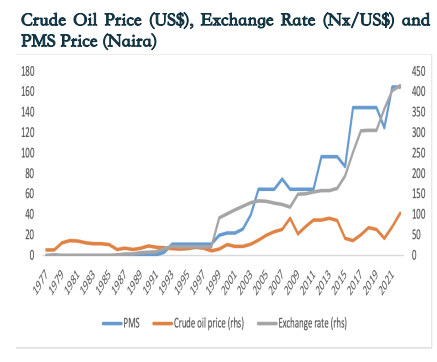 Subsidies are a smuggler's paradise
In addition to the ballooning effect of international crude oil price increase on the costs of petrol subsidy, the subsidy regime has been enmeshed in serious corruption and scandals. For example, in 2012, a senate committee on subsidy probe hinted that out of 59 million liters of daily consumption that the government was paying for, only about 35 million liters were actually consumed and accounted for. In other words, "there is a gap of 24 million liters per day being funded by Nigerians as subsidy that was not utilized by them".The committee estimated this loss at 669 billion naira per year. This huge loss was estimated to be higher than combined expenditure on education and health in the same year.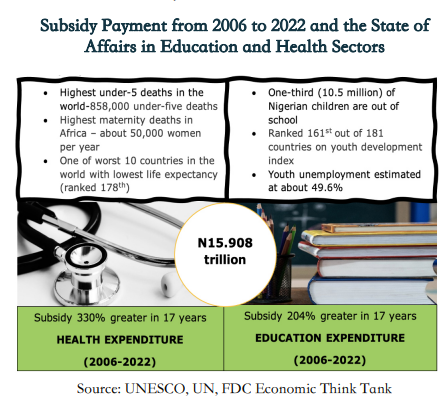 According to official information, the cost of petrol subsidy from 2006 to 2022 is expected to hit N15.9 trillion with N4 trillion budgeted for 2022. A review of total education and health expenditure shows that the cost of petrol subsidy over the past 17 years is about 330% higher than the total expenditure on the health sector over the same period. Similarly, the cost of subsidy is also estimated to be about 204% higher than the total expenditure on the education sector over the same period. Thus, this humongous expenditure on subsidy does not seem to be welfare-improving, and thus could be said to be Pareto-inefficient.²⁰ While more funds are being shifted from critical sectors to subsidy financing, the socio-economic costs of subsidy financing appear to be overwhelming.
Enriching the rich and improverishing the poor
The World Health Organization (WHO) reports that the MMR of Nigeria is 814 per 100,000 live births. This statistic puts the risk of a Nigerian woman dying during pregnancy, childbirth or postpartum at 1 in every 22 women, which is a sharp contrast to the lifetime risk of 1 in 4900 for women in developed countries. The UN Economic Commission for Africa estimated that 1 in 7 global maternity deaths (which is about 50,000 deaths per year) occur in Nigeria with over 95% of such deaths being preventable. In addition, Nigeria has been ranked 178th in global life expectancy with average life expectancy estimated at 55.2 years. Moreso, with about 10.5 million out of school children, Nigeria leads the global out-of-school children records with about 1 in 5 out-of-school children in the world being a Nigerian. Nigeria also ranks 161st out of 181 countries on youth development index. These life-threatening statistics are worsening while subsidy regime appears to be entrenched.
Indeed, the subsidy regime has imposed large fiscal burden on the economy while government appears to be handicapped on controlling the raging expenditure. With fiscal deficit and public debt stock increasing by 7,568% and 1,695% respectively, per capita income has only increased by 21% in the past 16 years. In fact, between 2014 when per capita income peaked US$3,099 and 2021, the per capita income has fallen by 35%.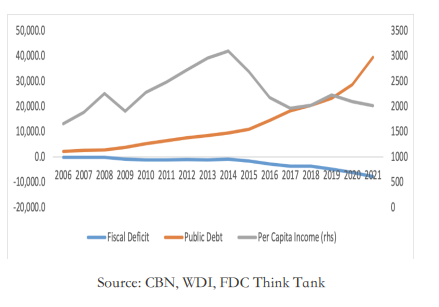 In addition, poverty incidence has worsened from 15 million people in 1977 to 95 million people in 2022. While the Nigerian government spent N15.9 trillion from 2006 to 2022 on subsidy in a bid to support citizen's welfare, the misery index almost doubled, rising from 34.47 in 2006 to 68.13 in 2021. The most shocking scenario is the oil price honeymoon engineered by the Russia-Ukraine war: many net oil exporters are indeed celebrating enormous increase in revenue and external reserves, but in Nigeria, the story is different. While oil price has continued to rally as the war rages, petrol subsidy spikes while external reserve dips.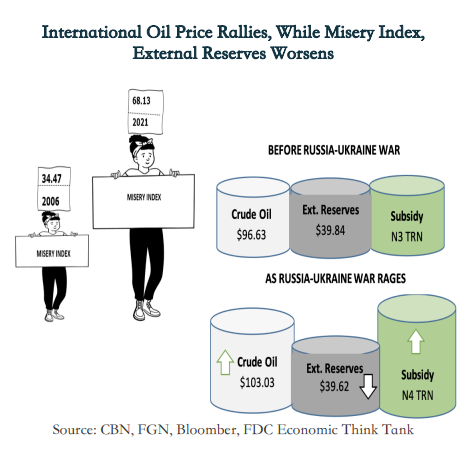 Subsidy crowds out education & health spending
This paradox of welfare-based expenditure has raised more questions than could be answered by policy makers. The subsidy racketeering does not appear to benefit the government. It does not benefit the citizens either. Who then benefits from the "spoil of war"? Certainly, as most analysts would agree, the oil marketers are the sole beneficiaries. On one flank, they benefit from bogus claim on subsidy regime.
On the other flank, they also benefit from re-exporting the subsidized products through smuggling windows to other African countries. The ultimate losers are the citizens who believe they are the ultimate beneficiaries. Breakdown of 2022 budget shows that the proposed petrol subsidy of N4trn amounts to 37.2% of the proposed revenue, 23.4% of proposed total expenditure, and 73.3% of proposed capital expenditure. It also amounts to 339% of total education budget, and 552.5% of health budget. Shockingly, the proposed budget exceeds the total combined budget of 19 states of the federation, namely, Edo (N222.60bn), Cross River (N354.50bn), Delta (N479.00bn), Anambra (N141.10bn), Enugu (N186.64bn), Abia (N147.30bn), Ekiti (N100.80bn), Osun (N129.70bn), Oyo (N294.70bn), Sokoto (N188.40bn), Kebbi (N189.20bn), Kaduna (N278.50bn), Kano (N196.00bn), Kogi (N145.80bn), Benue (N155.60bn), Kano (N196.00bn), Plateau (N106.80bn), Niger (N211.00bn), and Borno (N269.70bn). With over N18,000 per head budgeted for subsidy in 2022 while poverty and misery continue to bite, there is no gainsaying that the subsidy regime is not pro-poor.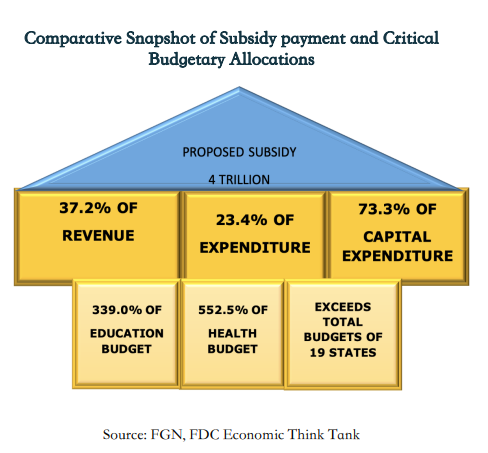 The policy makers are aware that petrol subsidy is not for the poor. The humongous loss rattles policy makers who would want to end the "wasteful" regime. The hard job was to be done through the provisions of Petroleum Industry Act (PIA) which signalled the beginning of deregulation era in the downstream sector. The FGN announced that subsidy would be removed in 2022. But as usual, it was pressured to continue the subsidy regime for purely sociopolitical reasons. But even the citizens, some will argue, have rights to demand for continued subsidy regime. The citizens fear that subsidy removal will worsen energy poverty in Nigeria, which is currently estimated at nearly 47%. Another fear is that although the opportunity cost of subsidy regime is admittedly high, the savings to be made from subsidy removal may be siphoned through systemic corruption. The policy makers are indeed conflicted, but how will the citizens be convinced that the subsidy removal will do Nigerians more good than harm?