Thursday,April 08, 2021 / 06:22 PM / Press Release / Header Image Credit: Ecographics

1. We really do not enjoyJoining issues with the current Administration in Ogun State. However, theState Government, in its wisdom, chose to call us out with Its tons of lies andmisinformation carelessly crafted to obfuscate issues and concerns raised bythe Debt Management Office (DMO) In the just released Data on Debt Figures ofthe 36 States of the Federation and the FCT, where the figures showed the OgunState's skyrocketing debt at a time when by general acclaim, nothing is onground to justify such huge debt.
2. In its statement,captioned severalty as follows 'Ogun Debt Not Property Captured by OurPredecessor', 'We uncovered Amosun Government's N50B Hidden Debt' etc. thecurrent Administration Claimed that N50billion in unpaid pensions. gratuitiesand outstanding staff salaries were 'surprisingly not captured in the booksleft behind for the new Government. The statement further said. 'We only got toknow about this amount in the course of carrying out due diligence on OgunState finances shortly after we look over. And as a transparent government.committed to being accountable, we had to disclose this for the first time, togive a true picture of the State's Indebtedness". How laughable? Should weremind them that by next month. they would have done half term? And, if thecurrent claims are true, and they knew all these shortly after it took over,how come they kept mute for nearly two years and until the DMO raised alarm?Every reasonable and objective observer will be able to draw appropriateconclusions from this childish afterthought,

3. The claims of the OgunState Government on the issue of its debt profile are deliberate lies. Thealibi offered by Ogun State Government in response to DMO report Is laughablered herring which bothers on financial illiteracy and calculated mischief. Theywore lies spurned to cover up inexplicable inadequacies.
Related Post: PDF: OgunState: The Debt Trap-Leaning Against theWind - April 2019

Key Facts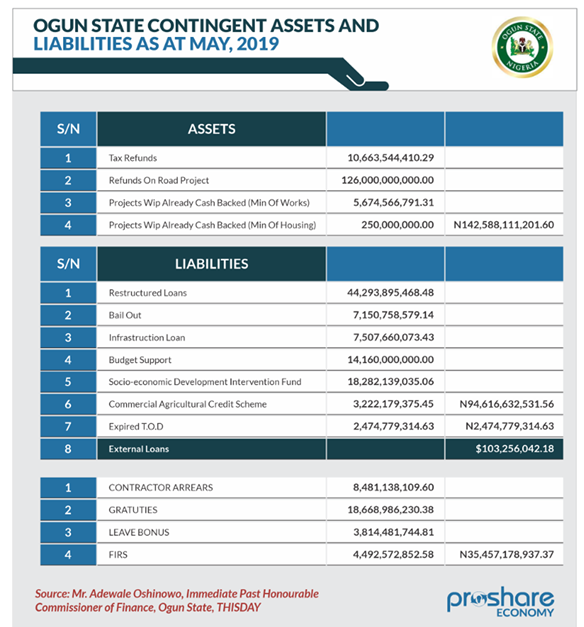 4. For the records, andparticularly for the benefit of our people and posterity, we say clearly thatwe did not owe or leave any liability not captured In our end of tenure andhand over report. We said that much and laid out the figures during an earlier publicationIn the Punch, Tribune and ThisDay Newspapers of Monday, 28September, 2020 made in response to Ogun State Government claims on the Workersgeneral strike. It appears that the Dapo Abiodun administration has thepenchant to wish away Issues and crisis by simply hanging same on the necks ofthe immediate past administration, Like they say in popular parlance, thingsnever work or get resolved by buck passing.

5. The Government of OgunState should be sincere and factual to tell the good people of Ogun State thetruth on the N58.48 difference between June 2019 after we left office andDecember, 2020, and how much debt it has accumulated In the period underreview.
6. There is a saying in Yoruba by our people in theSouth West that "Omo ile-iwe to loyun to n de bellti mo over herstomach, sooner than later, the truth of the pregnancy will be out for allto see. The good people of Ogun State should please wait for DMO figures byJune 2021 and December 2021 when all the lies and manipulations of the presentAdministration will further come to light.
7. These figures and tablestell a rather simple and straightforward story. They show factually that theclaims of the Ogun State Government are lies and half truths. Contrary to thefalse claims made, pages 115 and 116 of the Compendium of Financial Statements2011-2019 of our End of Tenure report contain copious notes of Salaries,Deductions and other outstanding. Indeed, in Its account (Ogun StateLabour Industrial Action: Our Position. Our Offers) as contained in apublication authored by Mr. Tokunbo Talabi, Secretary to State Government datedThursday, 17 September. 2020, the records, notes and accounts detailed in ourEnd of Tenure report were validated in paragraph 1.1 of the publication. Whatis More, some records were captured in the Ogun State Government returns to theDMO save for the two columns on Pensions and Gratuity arrears, and Salariesarrears and other claims. Deliberately, and with a purpose to serve, those Iwoheads ware skewed in their response to mislead. We challenge the Ogun StateGovernment to show how they arrived at N45.546B reflected as at June 2020.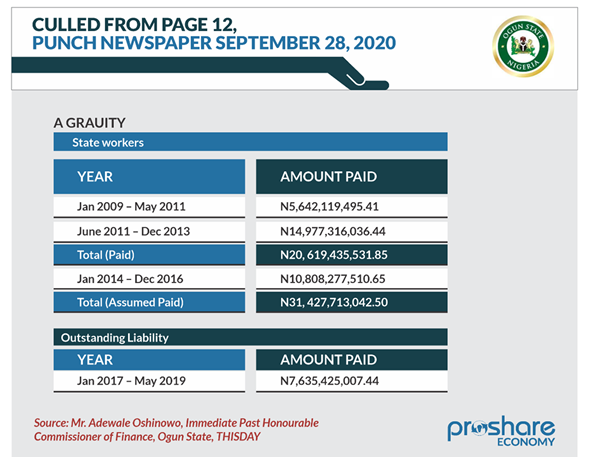 TheN10.6B refund from the Federal Government owed to our administration andearmarked specifically (and which was dearly stated in the handover mitts) forthe Gratuity payment for period January 2014 to December 2016 was blockedtogether with the N5.7B May 2019 Statutory Allocation from the FederationAccount (which was to be used specifically to augment the May, 2019 WorkersSalary) by the present administration in early May 2019, before they assumedoffice. The refund of N10.6 Billion was paid in early July 2019, barely 6 weeksinto the new administration, while the N5.7 Billion was paid in the first weekof June, 2019.
A totalof N20.6911 was paid and $10.613 provided for, totaling N31.4B by ouradministration for the period between January 2009 to December 2016,
For therecord, [he total outstanding Gratuity to the State workers stood atN7,635.415,007.44 at the end of our administration in 29 May, 2019.
(I) (Local Government and SUBEB as atMay, 2019)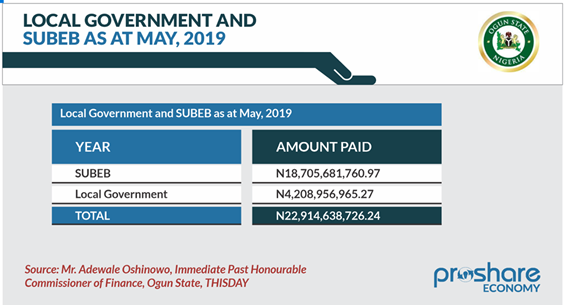 A totalSUM of N22.9B was the outstanding Gratuity for Local Government and SUBEB asagainst the N32.5B published. Leaving an overstated amount of N9.6B.

NB:
Itis instructive to note that a backlog of 3 years left by the previousadministration was paid by our administration.
8. For further clarification,our Administration cleared 18 months arrears of deductions and 3 months ofunpaid salaries owed by the Administration that we succeeded, For otheragencies and tertiary Institutions, we cleared several months in arrears, insome instances two years and more. Relatedly, we paid full salaries, pensionsand other emoluments between 29 May, 2011 to 29 May, 2019. The records alsoshow that verifiable gratuities arrears owed by us stood at 9322.48 billion,out of which N10.6 billion was released to the current Administration in thefirst week of July 2019, By the time we Mien these figures, the net outstandingliability on Gratuity left by our Administration was below N12 billion. Savefor the two queried columns, our figures tally with the accounts of Ogun StateGovernment as contained In its publication under reference and with DMOfigures, We all due respect, we invite the current Administration to come cleanof how much they had paid in gratuity since they look office, and, moreimportantly. how much more they had accumulated. If for instance the DMOrecords show that Ogun State Government already owed N10.839 In salary arrearsas at December2020, it is left to see what the figures will climb to inDecember 2021.
9. The DMO mandate typically covers and reports onInstitutional debts and long tenured structured loans. (between 10 and 20years) not operational and routine obligations like salaries, pensions andgratuities. We are Curious as to the true Intentions of Ogun State Governmentin this attempt to transfer these routine obligations to DMO. Were theydeliberately accumulating debt stook to prepare the grounds for moreliabilities? Time will tell. For us, we stand by our figures as contained inour hand over notes and End of Tenure report. We do not want Ogun stakeholdersand the general public to be misled or fed cruel lies by an Administration thatis inwardly and outwardly deficient in governance and ideas.
Mr.Adewale Oshinowo
ImmediatePast Honourable Commissioner for Finance
OgunState.
Credit:
The post Ogun State DebtFigures - Fasten Your Seat Belt: We Have Entered "One Chance" first appeared in This Day Newspaper and othernewspapers i.e. Punch and The Tribune on April 08, 2021.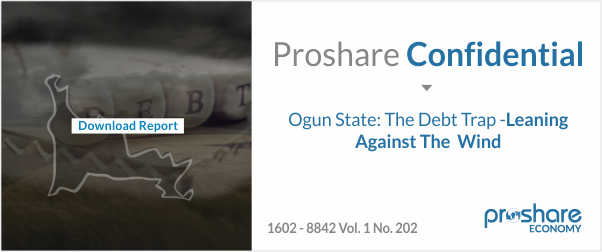 Related News - Ogun State
1. We'veuncovered N50bn hidden debt by Amosun govt - Ogun - Punch Newspaper -Mar 15, 2021
2. Weuncovered Amosun govt's N50 billion 'hidden' debt - Dapo Abiodun - Premium Times -Mar 15, 2021
3. PDF: OgunState: The Debt Trap-Leaning Against theWind - April 2019
4. 38.60% of Nigeria's Total Public Debt WasExternal in Q4 2020 - NBS - Mar 29, 2021
5. Ogun State: 52 Weeks of Building Our FutureTogether - Jan 31, 2021
6. Ogun State: WorkingPast Economic Headwinds - Nov04, 2019
7. Lagos-Ogun Partnership for Economic Development- Thoughts on What Is Possible - Nov 03, 2019
8. Sanwoolu, Abiodun List Benefits Of ProposedLagos-Ogun Joint Commission - Oct31, 2019
9. Dapo AbiodunAnnounces Ogun State Economic Transition Committee - Apr 13, 2019
10. Deconstructing theDebt Profile of Ogun State as at May 2011 - Aug 27, 2014
11. SEC confirms Ogun State N50 billion Bond
12. Ogun State to issue Bonds on NSE
13. Ogun incurs N3.6bndebt over inability to access bond

Related News - State and Local Govts
1. Ehingbeti Economic Summit 2021: The Lagos of Our Dream
2. 8th Ehingbetti Summit: Lagos as An Accelerator; A Smart City'sDestiny
3. Communique - Meeting of the SW Governors, MACBAN and SecurityAgencies
4. IOD Forum: Governor Sanwo-Olu Highlights US$2bn PPPOpportunities in Lagos
5. How the Lagos T.H.E.M.E Agenda Will Drive Industrialization -Gbenga Omotosho
6. Lagos State Explains its 2021 Budget of "RekindledHope" to Media Executives
7. 2021 Budget: Lagos to Raise N100bn Debt Through the CapitalMarket to Finance Development
8. FAAC Payout Well Below Most States' Needs
9. LASG Reviews 2021 Budget; Builds on the T.H.E.M.E Agenda
10. BudgIT Publishes 2020 Revised State of States Reports, MeasureEpidemic Preparedness of States