Saturday, November27, 2021, 7:00 AM / by Bukunmi Adejobi, Proshare Research / Header ImageCredit: NGX Group

The freshlydemutualized Nigerian Exchange Group Plc(NGX) released its Q3 results for 2021 with a slight glimmer of future solidearnings as post-tax profits rose from N1.37bn in Q3 2020 to N1.51bn in Q32021, a rise of +10.55%. Analysts note thatthe surge was not earth stumping, but it gave a sense of the underlyingearnings potential of the group.
In 2021, the Nigerian Stock Exchange (NSE) became fully demutualised, changing from a member-owned not-for-profitentity into a shareholder-owned, profit-making entity. The newstructure, which included the Nigerian ExchangeGroup Plc (NGX Group), has as its subsidiaries: the Nigerian Exchange Limited (NGX Exchange), NGX Regulation Limited(NGX REGCO), and NGX Real Estate Limited (NGX RELCO).
Key Highlights
Revenue advanced year-on-year (Y-o-Y) by

+15.93

%

to N4.38bn in Q3 2021 from N3.78bn in Q3 2020.

Total income was up Y-o-Y by

+20.75%

to N4.85bn from N4.02bn in Q3 2020

Total Expense grew by

+12.23%

to N4.14bn from N3.69bn in Q3 2020

Profit before tax inched up significantlyby

+26.50%

to N1.72bn from N1.36bn in Q3 2020.

Basic and diluted earnings per share stoodat N0.75k Q3 2021

Shareholder's fund was up

+15.62%

to N1.14trn in H1 2021 from N988.98bnin H1 2020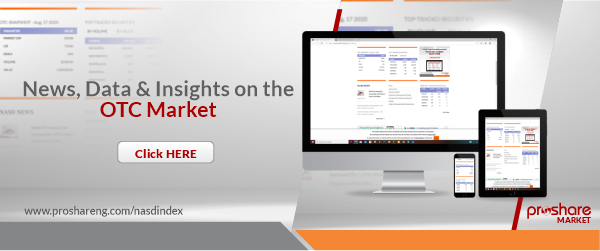 The NASD, NGX Parley
The over-the-counter (OTC) equitiesmarket, NASD Plc, saw the demutualised NGX listed on its platform on April 14,2021. Following its listing on the NASD, the stock traded at early market priceof N25 per share while trading activities were carried out by NASD's 152licensed and registered dealers. The listing represented the firstcross-listing for any securities exchange in the country. However, this was notwithout some apprehension; analysts raised questions about the listing priceand share ownership distribution of the NGXGROUP.
The equitiestrading platform saw a considerable spike in market capitalization as the volumeof shares traded and deals completed rose notably between Q1 and Q2 2021. The NASD'sNSI Index gained +1.04%, from 747.01 points in Q1 2021 to 754.88points in Q2 2021, and the NGX Group traded at a high of N30.26. Accordingto market analysts, the number of deals done rose by +933.33% to 31 from 3 recorded in Q1 2021 (using the last trading day ofeach quarter as a benchmark). The NGX listing added N33.43bn in added OTCmarket cap, raised investor interest in the market.
Whileinvestors beamed over the rise in NGX Group's stocks, analysts still questionedthe extent of market disclosure on the NASD.
Reviewing month-on-month(MoM) share price movement, SDNGXGROUP stock price fizzled downwards towards itsdelisting from the NASD trading at N28.51 on April 30 before slumping to N16.15on October 08, 2021, the last NASD trading date.

The NSI (NASD Index) and the SDNGX price moved in closecorrelation, suggesting that the share price of the Group largely mirrored themovement of the NSI, implying that trading activities in SDNGX equities had adisproportionate influence on Index direction and size.

(

See chart 1below

).
Chart 1: M-o-M Movement of The NASDIndex & Nigeria Exchange Group's Share Price as of October 08, 2021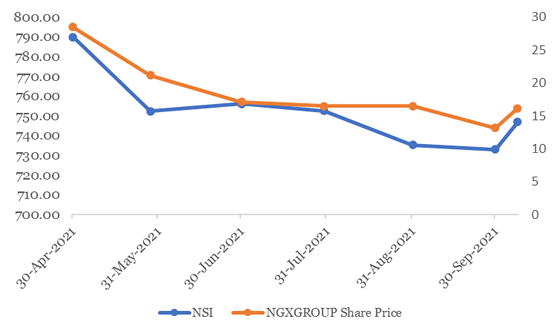 Source: NGX, Proshare Markets
NGX Group, Walking Back Home
After the Close of its registerand the decision to with from the NASD, the NGXGROUP was admitted on the Nigerian Exchange Limited by introduction following the successful listing of 1,964,115,918ordinary shares valued at N16.15 per share on its Main Board of NGX on Friday, October 15, 2021. Thestock traded at N17.75 per share on the first day of new trading. Thetransaction added N34.9 billion to the total market capitalization of the NGX, which closed at a totalmarket value of N21.6 trillion.
After completing thedemutualization and restructuring of the Nigerian Stock Exchange and itsrelated operations, the listing set the Exchange at par with other demutualizedexchanges worldwide. The NGX is now similar to other African continentalexchanges such as the Johannesburg Stock Exchange (JSE) and Nairobi StockExchange (NSE), which are listed and publicly traded shares.
The NSI and the shareprice of the group are seen to be moving in different directions, indicating nocorrelation between the performance of both indicators. (

See chart 1 below

).

The NGXGROUP closed atN17.75 on its first trading day, recorded a spike of

+66.20%

to N29.5 on October22, 2021, which represented a rise in investors' interest in the stock as brokerswere ready to sell their shares.

The year-to-date (YTD)performance of the NGXASI has given higher returns than the Nigerian ExchangeGroup's share price performance with

+7.39%

.

The Exchange provider's share price dipped YTD by

-7.04%

as of November 24, 2021. This proves yet again the NGXGROUPdoes not mirror the performance of the overall index. The share price continuesto decline, showing weak investor sentiment towards the stock.
Chart 2: W-o-W Movement of The NGXASI& Nigeria Exchange Group's Share Price as of November 24, 2021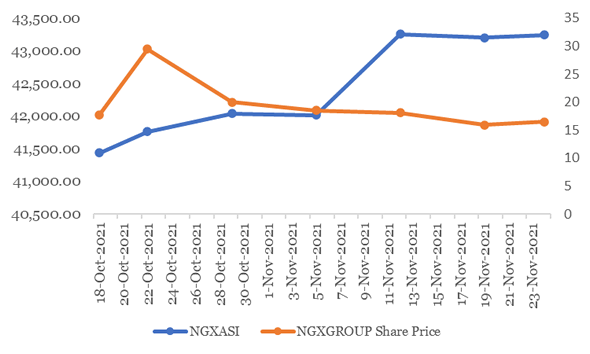 Revenue
The overallincome of the exchange group showed that it grew revenue by +15.93% from N3.78bn in Q3 2020 to N4.38bn in Q32021 review (see table 1 below). The revenue included:
a. Listing fees and entrancelevies included annual listing fees for listed companies, listed bonds, anddelisting fees. Entrance fees include application processing and brokeragehouse application fees. The total revenue from fees grew by +10.72% to N529.49m Q3 2021 from N478.21m in Q32020.
b. Transaction fees includedEquity transaction fees, Exchange Traded Fund, and Income from Bond trading. Itgrew by +3.17% to N1.79bn Q3 2021 from N1.73bnin Q3 2020.
c. Revenue from data, technology,and indices includes market data income from market data feed and other marketdata subscription services. It grew by +3.17%to N1.79bn Q3 2021 from N1.73bn in Q3 2020.
d. Other sources of revenueinclude treasury investments from bonds, treasury bills, fixed income deposits,dividend income from associates and subsidiaries.
Table 1: Nigeria Exchange Group'sRevenue Q3 2021 and Q3 2020 (N'm)

ProfitBefore Tax
The Group's profitbefore tax rose by +26.50% from N1.36bn inQ3 2020 to N1.23bn in Q3 2021 review (see table 2 below).
Table 2: Nigeria Exchange Group'sPBT Q3 2021 and Q3 2020 (N'm)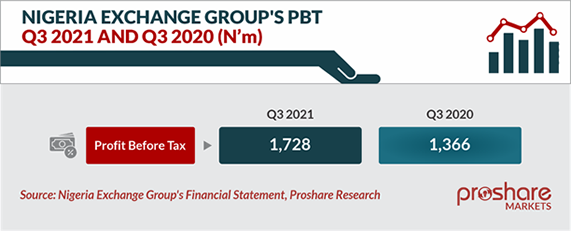 ProfitabilityRatio
Assessingthe group's ability to profit from its operations and capital efficiencyshowed that its return on capital employed (ROCE) in Q3 2021 was higher with aratio of 0.02 compared to 0.01 recorded in Q3 2020. The demutualization projectcosts affected operating profit, which has affected group performance (see table 3 below).
Table 3: Nigeria Exchange Group'sROCE Q3 2021 and Q3 2020 (N'm)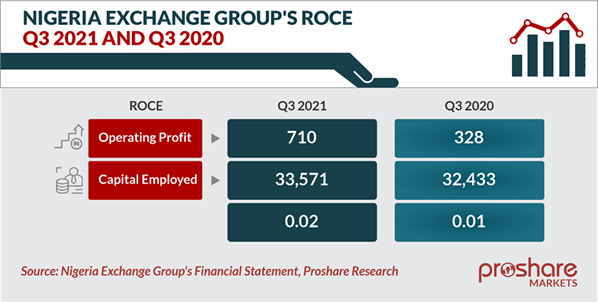 Comparingthe ROCE of its counterpart - NASD OTC, the NGX Group appears to be moreefficient in generating profit from its assets. The NASD OTC recorded a negativereturn on capital employed with a ratio of -0.02 (see table 4 below).
Table 4: Nigeria Exchange GroupROCE Q3 2021 Vs NASD OTC ROCE Q3 2020 (N'm)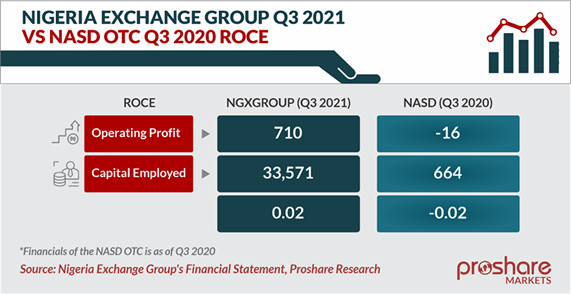 EfficiencyRatio
The assetturnover ratio of the NGXGROUP was slightly higher in Q3 2021 at 0.12 comparedto 0.11 recorded in Q3 2020. The ratio was less than one (1), suggestingthat the low efficiency ratio could not generate adequate revenue. However,this reflected company's sector, the financial services sector (see table 5 below).
Table 5: Nigeria Exchange Group AssetTurnover Ratio Q3 2021 and Q3 2020 (N'm)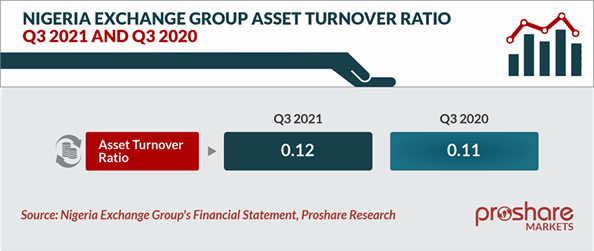 Comparing the asset turnover ratio of the NGXGROUPwith the NASD OTC showed that the OTC market generated revenue with its assetsat a faster pace than the Nigeria Exchange Group. NASD recorded 0.43in asset turnover while NGXGROUP posted 0.12, which may indicate the group not using its available assetsefficiently; for example,fixed assets such as property or equipment could be sitting idle or notbeing used to generate revenue at their full capacity (see table 6 below).

Table 6: Nigeria Exchange GroupAsset Turnover Ratio Q3 2021 Vs NASD OTC Asset Turnover Ratio Q3 2020 (N'm)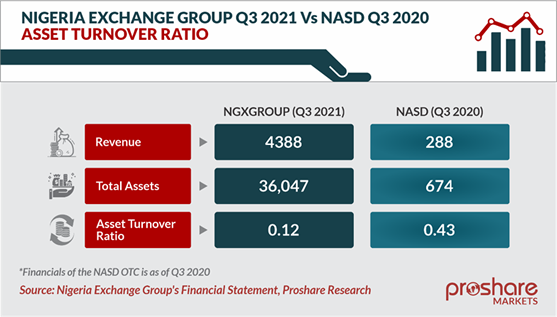 The NGXGROUP posted strong earnings in Q3 2021; however, thesteady decline in share price appears to signal a paring down of investorconfidence in the stock.
Related News
1. SPACs as Engines for Public Ownership and Growth
2. NGX Partners BUA Group, CSCS, and Other PrivateSponsors to Host Capital Markets Conference
3. NGX Highlights Opportunities for Diversification inNigeria's Capital Market
4. NGX to Host Inaugural Nigerian Capital MarketConference on November 30th, 2021
5. NGX to Further Drive Investor Education With RetailInvestor Workshop
6. SEC Holds Third CMC Meeting for 2021 on Thursday,November 11th and 12th
7. NGX Reiterates Commitment Towards Gender Equity andInclusion
8. How To Efficiently Manage Your Working Capital
9. X-raying the Nigerian Investors Sentiments on MarketGrowth and Economic Development