Friday,October 15, 2021 / 05:11 PM / By NGX / Header Image Credit: NGX
NigerianExchange Group Plc ('NGX Group' or 'The Group') is delightedto announce the successful listing of its shares on the Main Board of NigerianExchange Limited ('NGX' or 'The Exchange').
Havingsatisfied the Listing Requirements of The Exchange and obtained relevantregulatory approvals, NGX Group is now listed in the Financial Services andCapital Market Infrastructure sector of the Exchange, with the ticker "NGXGROUP". A total of 1,964,115,918 shares were admitted to trading,representing the issued share capital of the Group as of today.
Commentingon the listing, the Group Chairman, Nigerian Exchange Group Plc, OtunbaAbimbola Ogunbanjo said, "Today's Listing of NGX Group on NGX is anothermilestone attained pursuant to the Group's 2018 - 2021 corporate strategy. Ourshareholder base has more than doubled since our demutualisation in March 2021and our valued shareholders will benefit from the enhanced liquidity thatlisting on The Exchange will facilitate. This listing will also enable a muchwider universe of potential investors and market participants to share in ourgrowth journey. As a Board, we embrace the letter and spirit of the listingrequirements and we are committed to transparent disclosure, proactivestakeholder engagement and exemplary corporate governance".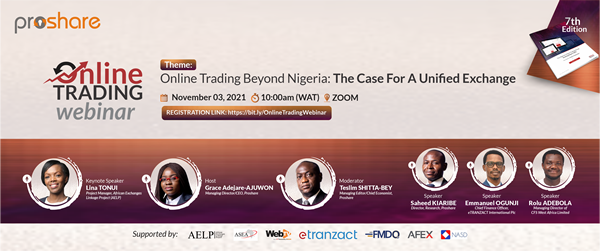 TheGroup Managing Director/Chief Executive Officer, NGX Group, Mr. Oscar N.Onyema, OON, stated, "Today's listing of NGX Group on the nation's premier Exchange,NGX, will enable institutional investors globally as well as the Nigerianpublic to invest in Nigerian Exchange Group Plc. With strengthening marketdynamics, serving the largest economy in Africa, NGX Group's listing allows usto expand in key capital market infrastructure verticals and look beyondNigeria's borders, as we deliver on our growth plans to become Africa's leadingcapital market infrastructure group".
TheChief Executive Officer, NGX, Mr. Temi Popoola, CFA, commented on the milestonelisting stating, "We are excited to welcome NGX Group to the main board of TheExchange and we congratulate the Board and Management first on a successfuldemutualisation and on its subsequent listing. Thismove is particularly exciting, as it will position NGX Group to provideliquidity to members while stimulating the capital market ecosystem to grow atthe same pace as the economy. Today, we reiterate our commitment tobeing a trusted partner to NGX Group and other listed companies as we continueto build a platform that allows our listed companies, investors and otherstakeholders to maximise value in our market".
NGXGroup has issued a listing by introduction Information Memorandum in relationto the listing. A copy of the Listing Memorandum is available on the website of the Group.

Related News
1. NGX AnnouncesResignation of Oscar N. Onyema on the Back of the Imminent Listing of NGX Group
2. NGX GroupReceives Approval to List from NGX
3. NGXGroup Upholds Global Best Practices Ahead of Planned Listing by Introduction
4. NGXGroup Confirms Intention to List on NGX
5. NGXGroup Notifies of Change of Name and Brand Identity Post-Demutualisation
6. Demutualisation:Oscar Onyema Completes Tenure as NSE CEO, Transitions into Group CEO
7. NSECompletes Demutualisation, SEC and CAC Approve
8. NGXGroup Launches New Brand Identity and Website - Apr 13, 2021
9. NigerianExchange (NGX) Limited Offers Free Training to Derivatives Traders -Apr 07, 2021
10. Demutualisation:Oscar Onyema Completes Tenure as NSE CEO, Transitions into Group CEO- Apr 06, 2021
11. SEC ApprovesAppointment of CEOs of Demutualised Entities of The NSE - Apr 01, 2021
12. Demutualizationof NSE: Innovative Products Key to Deepening Capital Market - Mar 23, 2021
13. NSEDemutualization Will Provide an Avenue for the Exchange to Achieve GreaterEfficiency - Mar 11, 2021
14. NSE CompletesDemutualisation, SEC and CAC Approve - Mar 10, 2021
15. Demutualisation:NSE Announces Chief Executives for Emerging Entities - Jan 06, 2021
16. NSEDemutualisation Receives Boost as Court Sanctions Scheme of Arrangement- May 18, 2020
17. NSEMembers Assent to Demutualisation Resolutions at COM and EGM - May 03, 2020
18. NSESet to Hold Strategic Meetings As Demutualization Nears Completion - Feb 12, 2020
19. NigeriaStock Exchange (NSE) Prepares For Demutualisation, Advises Brokers To"Combine" - Feb07, 2020
20. NSEDemutualisation Crosses Major Hurdle As Buhari Signs Bill - Sep 27, 2018
21. AnInsight to the Regulatory Issue Arising from the Demutualisation of the NSE- Feb 17, 2018
22. MembersApproved NSE Demutualisation Process - Mar 30, 2017
23. NSEAnnounces Financial Advisers for Demutualisation​ - Oct 13, 2015
24. Brokerscall on SEC board to publish guidelines for demutualisation - Mar05, 2013
25. Demutualisationof NSE may begin in Q2 - Mar 01, 2012
26. SECInaugurates NSE's Demutualisation Committee - Sep23, 2011
27. ASHONwrites SEC on Council Members, Demutualisation - Apr 13, 2011
28. NSErestructures ahead of demutualisation plans - Mar 11, 2011
29. Whya return to demutualisation would be a great relief - May 20, 2010
30. Demutualisation:Nobody will hijack NSE, Onyiuke - 2010
31. NSEDemutualisation to be Concluded in 2012 - Sep 28, 2010
32. NSEDG leaves office November 2010, suspends demutualisation - Nov, 2010
33. Shareholderleader query NSEs proposed demutualisation - Jan 19, 2009