Monday, March 14, 2022 / 05:20 AM / by Proshare Research/ Header Image Credit: EcoGraphics
Mutual Funds Market Review
The mutual fund market performed decently in 2021 money market mutual funds providing superior returns compared to equity and fixed income funds. United Capital's money market mutual fund particularly put up a stellar return of a net asset value (NAV) growth of over 100%. Bond Funds showed some spirit but were inferior on average to returns from their money market counterparts. The 95.8% rise in NAV of FBN Bond Fund was impressive, so was the 82% of Zenith Bank's fixed income fund rubbing shoulders with Coral Income Funds return of 82.56%. Mixed Funds saw rather tame returns suggesting that trying to mix portfolios with a concoction of money market and fixed income funds was not the cleverest of investment strategies in 2021.
Equity-based Mutual Funds had modest performance in 2021 as the stock market felt the challenges of the COVID-19-induced slow-burn recovery from the previous year (see table 66 below).
Table 63: Equity-Based Mutual Funds Returns 2021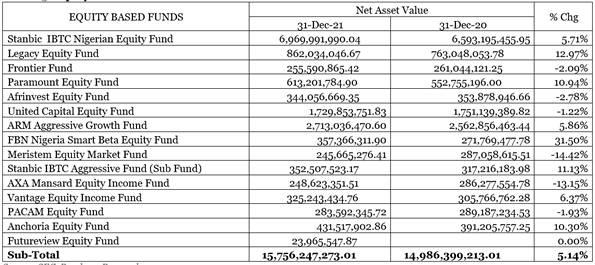 Source: SEC, Proshare Research
Money Market Mutual Funds were the toast of the Mutual Fund market in 2021 as average NAV growth exceeded that of all other market fund categories (see table 67 below).
Table 64: Money Market Funds Returns 2021

Source: SEC, Proshare Research
Fixed Income Mutual Fund performance was mixed in 2021. Some funds like Coral Income Fund did notably well in the year while other fixed income funds hovered between very modest NAV growth (e.g. United Capital Fixed Income Fund) to spectacular NAV growth (Zenith Income Fund) (see table 68 below).
Table 65: Fixed Income Funds Returns 2021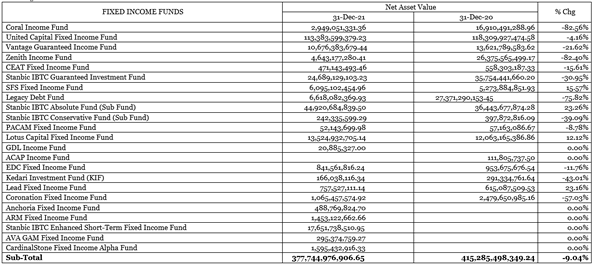 Source: SEC, Proshare Research
Bond funds did well in 2021 with the NAV growth ranging between 35.89% and 95.80%. Bond funds invest in longer dated instruments than fixed income funds and so required rate of return of investors are typically higher considering inflation rate expectations (see table 69 below).
Table 66: Bond Funds Returns 2021

Source: SEC, Proshare Research
Mixed funds characteristically present relatively low annual NAV returns. While some outliers can be spotted, in the main, these funds have been sluggards and have added really modest values to broad investor returns.
Table 67: Mixed Funds Returns 2021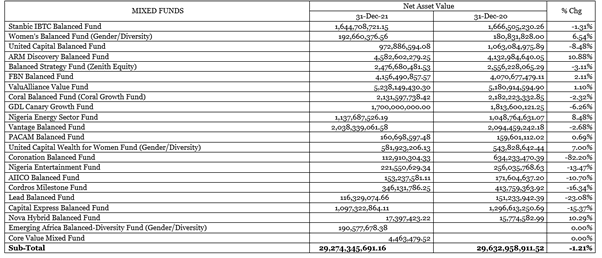 Source: SEC, Proshare Research
Table 68: Ethical Funds Returns 2021

Source: SEC, Proshare Research
Table 69: Real Estate Funds Returns 2021

Source: SEC, Proshare Research