Tuesday, November 09,2021 / 11:52 AM / by CSL Research / Header Image Credit: CSL Stockbroking

Basedon the recent data published by the National Bureau of Statistics (NBS), the InternallyGenerated Revenue (IGR) of the 36 states of the federation and the FederalCapital Territory (FCT) increased by 38.5% y/y to N849.12bn in H1 2021 fromN612.87bn in H1 2020. The improved performance fully reflects the economicrecovery following the reopening of the economy, as lockdown measuresimplemented by most state governments in Q2 2020 left lasting scars on theirrevenue profile. The growth in IGR is in line with the country's modest GDPgrowth in Q1 2021 (0.51%) and Q2 2021 (5.01%) from a deep contraction in 2020.
However,the recovery has been uneven across sectors and businesses. Further analysis ofthe data revealed that save for tax collections from PAYE which declined (down7.7% q/q), other components of the IGR supported the 13.2% q/q increase in IGRin Q2 2021; Direct Assessment (up 15.8% q/q), Road Taxes (up 6.4% q/q), OtherTaxes (up64.5% q/q) and MDAs Revenue (up 50.1% q/q). The increase in Direct Assessment explains the improved income level of self-employedindividuals and informal businesses following the removal of movement and traderestrictions, as the self-employed daily wage earners werethe most affected during the lockdown. Similarly, improved vehicular movementsboth within and out of states, reopening of markets, malls, recreationalcentres, and full running of revenue-generating MDAs during the second quartersupported the increase recorded across the other constituents of the total IGRof all states including the FCT.
Notably,23 out of 37 states recorded quarterly growth in IGR during the second quarter,with Niger (up 168.6% q/q), Kastina (up 123.7% q/q) and Ondo (up 122.2% q/q)posting the highest quarterly growth while Ebonyi (down 42.0% q/q), Nasarawa(down 35.6% q/q) and Kwara (down 33.5% q/q) recorded the highest decline. LagosState had the highest IGR with N267.23bn (equivalent to 31.5% of total IGR),trailed by FCT with N69.07bn (8.1%), Rivers with N57.32bn (6.8%), and Ogun withN54.82bn (6.5%). On the other hand, Gombe (N5.44bn; 0.6%), Taraba (N4.77bn;0.6%) and Yobe State (N4.03bn; 0.5%) recorded the leastIGR. IGR from Lagos and Ogun accounts form a significant part of the totalrevenue available to both states. We attribute this to the vast level ofeconomic activities in both states, which translates to sizable tax revenuesfor the state governments, with Lagos being a commercial hub and Ogun notablefor its high concentration of industrial estates.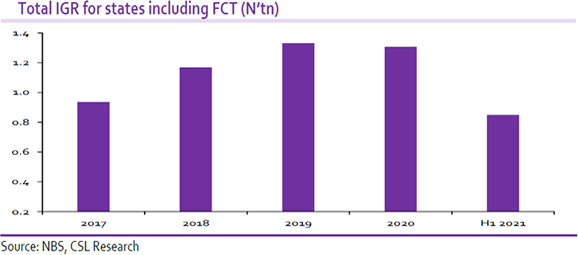 Related to IGR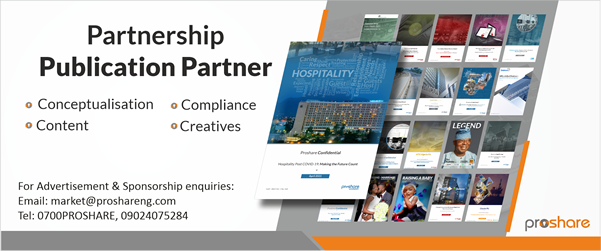 Related News on State and Local Govt