Tuesday, March 15, 2022 / 10:16 AM / by Coronation Research / Header Image Credit: Getty

Last year the Nigerian mutual fund industry suffered its first contraction in five years with its total assets under management (AUM) contracting by 10.6%. So far this year, by contrast, its total AUM have risen by 4.3%. The prospects for the rest of the year look good. What is driving flows out of and back into - mutual funds?
FX
Last week, the exchange rate at the Investors and Exporters Window (I&E Window) strengthened by 0.04% to N416.50/US$1. Elsewhere, the foreign exchange (FX) reserves of the Central Bank of Nigeria (CBN) declined by 0.29% to US$39.75bn, the lowest level since 14 February 2022. Nevertheless, we maintain our view that the CBN's position is strong as the level of FX reserves remains high in the long-term context. Hence, it seems likely that stability will be maintained in the I&E and NAFEX rates in the medium term.
Bonds & T-bills
Last week, trading in the Federal Government of Nigeria (FGN) bond secondary market was bullish as the average benchmark yield declined by 17bps to close at 10.43%. Notably, the yield on the 3-year (-23bps to 7.29%), 7-year (-18bps to 10.12%) and 10-year (-30bps to 10.42%) bonds tightened. Nevertheless, we expect a rise in bond yields over the medium term owing to an expected increase in domestic borrowing by the FGN.
Activity in the Treasury Bill (T-Bill) secondary market was mixed as investor attention shifted to the T-bill primary auction. The average benchmark yield for T-bills was flat at 3.41%. However, the yield on the 335-day T-bill gained 2bps to close at 3.99%. At the primary auction, the Debt Management Office (DMO) allotted N236.53bn (US$568.59m) worth of bills across all tenors. Demand was strong, as a total subscription of N482.90bn was recorded, implying a bid-to-offer ratio of 5.13x (vs 5.22x at the previous auction). As a result, the rate on the 91-day bill fell 49bps to 1.75%, the lowest level since 28 April 2021, while the rate on the 182-day shed 2bps to 3.28%. At the long end, the rate on the 364-day bill fell by 25bps to 4.10% the lowest level since 24 February 2021. This week, the Debt Management Office is expected to roll over N58.04bn worth of maturities at the T-bill PMA. Elsewhere, the average yield for OMO bills rose by 61bps to 3.92%; the yield on the 207-day OMO bill remained flat at 4.18%.
Oil
Last week, the price of Brent rose to as high as US$130.15/bbl, the highest point in over eight years, before settling 4.61% lower, w/w, at US$112.67/bbl. The loss marked the most significant weekly decline since the week ended 26 November 2021. Nevertheless, Brent is up 44.86% year-to-date and has traded at an average of US$94.20/bbl, 32.88% higher than the average of US$70.89/bbl in 2021.
US officials reached out to Venezuela, signaling their intent to secure more oil and opening the potential for Venezuelan heavy barrels to come to the US. This created some downward pressure on prices. In the meantime, the US Strategic Petroleum Reserve (SPR) release is set to ease immediate tightness in the market, with 30 million barrels released during April and May. Elsewhere, there was an increasing level of confidence that Russian supply to Asian buyers will continue even without Letters of Credit (LCs), using direct telegraphic transfers, alleviating fears of Asia growing tighter, too. While markets remain undeniably tight, some of the worst-case scenarios have been avoided.
In our view, the persistently low level of supply, strong demand and the ongoing war in Eastern Europe are likely to support oil well above the US$60.00/bbl mark this year.
Equities
Last week, the NGX All-Share Index gained 0.36%, recouping last week's losses to settle at 47,437.48 points, the highest level since 1 March 2022. Consequently, its year-to-date return rose to 11.05%. Presco (+19.62%), International Breweries (+4.00%), Guaranty Trust Holding (+3.85%) and Okomu Oil Palm (+3.70%) closed positive, while Unilever Nigeria (-7.04%), Seplat Energy (-4.26%) and Nigerian Breweries (-4.17%) closed negative last week. Performances across the NGX sub-indices were mixed with the NGX Insurance index (+2.65%) leading the gainers, followed by the NGX Banking (+1.29%), NGX Pension (+1.13%) and the NGX 30 (-0.67%) indices. On the flip side, the NGX Oil and Gas index (-2.22%) reversed some of last week's gains to top the laggards, followed by NGX Consumer Goods (- 0.52%) and the NGX Industrial Goods (-0.13%) indices
Growth Returns to Nigerian Mutual Funds
Last year we showed (Coronation Research, The rise of dollar mutual funds, 1 November) how 1-year T-bill rates rose to 10.70% pa in May 2021 as investors demanded high yields at auctions. By the end of the year, however, 1- year T-bill rates had collapsed to 5.35% pa, giving an inflation-adjusted return of negative 8.89% pa when compared with annual inflation of 15.63% year-on-year (December).
This provided the impetus for investors to take on risk assets such as equities and to buy US dollarfunds. This year, while inflation has continued to decline, primarily due to base effects, 1-year T-bills yield 5.02% (end-February) with inflation still in double digits at 15.60% (February). This has presented challenges for fund managers seeking to attract money into Money Market and Fixed Income funds. The differentiating factor between funds today is how skillfully their managers position portfolios as interest rates change.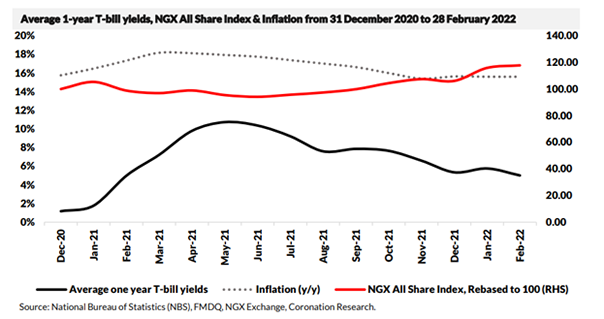 Risk appetite has sent the NGX All-Share Index up 11.05% year-to-date. This rally has been driven by new NGX Exchange listings (e.g., BUA Foods), better-than-expected Q4 earnings, positive earnings expectations and corporate actions, as well as investors taking positions ahead of FY 2021 dividend payments. In our report (See Coronation Research, 2022 Investment Strategy, Optimising Risk and Returns, 22 February), we make a case that equities continue to look attractive with a few stocks, notably among the banks and telcos, generating higher dividend yields than the 1-year T-bill.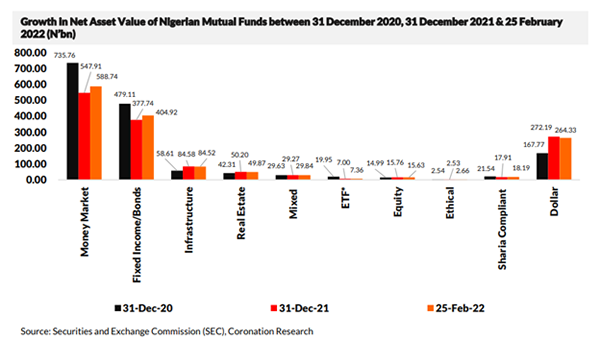 Following the recent reclassification by the Securities and Exchange Commission (SEC), there are now 10 categories of publiclylisted mutual funds: Money Market Funds, Fixed Income/Bond Funds, Infrastructure Funds, Real Estate Funds, Mixed Funds, Exchange-Traded Funds (ETFs), Equity Funds, Ethical Funds, Sharia Compliant Funds and US Dollar Funds. This reclassification was necessary because US dollar funds used to be listed under Fixed income and Bond funds, as we explained in our report The rise of dollar mutual funds, 1 November).
Having realised a nominal compound annual growth rate (CAGR) of 61.58% between 2016 and 2020, the Nigerian mutual funds' industry suffered its first decline in five years in 2021. According to the SEC, between 31 December 2020 and 31 December 2021, the total combined Net Asset Value of all the regulated mutual funds declined by a nominal 10.63% from N1.57tn (US$3.78bn) to N1.41trn (US$3.38bn). This decline was primarily driven by an exodus of N187.86bn from Money Market funds and N101.37bn from Fixed Income and Bond funds.
However, in this same period, other categories of funds, notably US dollar-denominated funds (+62.24%), Infrastructure funds (+44.32%), Real Estate funds (+18.66%) and Equity funds (+5.14%), grew, showing the increasing appetite on the part of investors for risk assets. (Note that some of the growth was accounted for by the performance of the underlying assets.) So far this year, the total combined Net Asset Value of all the regulated mutual funds is up 4.34%.
What are the prospects for the rest of this year? Our view is that risk assets will remain in vogue as long as risk-free returns continue to fall. So, we expect to see money going into the above-mentioned categories of funds. By contrast, our core view on market interest rates is that these are likely to rise this year (see Coronation Economic Research, Blend of Optimism and Uncertainty, 14 February), and so we expect risk-free returns to improve. We therefore expect mainstream Money Market and Fixed Income funds to attract money throughout the year.
Model Equity Portfolio
Last week the Model Equity Portfolio rose by 0.51% compared with a rise in the NGX Exchange All-Share Index (NGXASI) of 0.36%, therefore outperforming by 16 basis points. So far this year it has gained 11.14% against an 11.05% gain in the NGX-ASI, outperforming it by 8bps.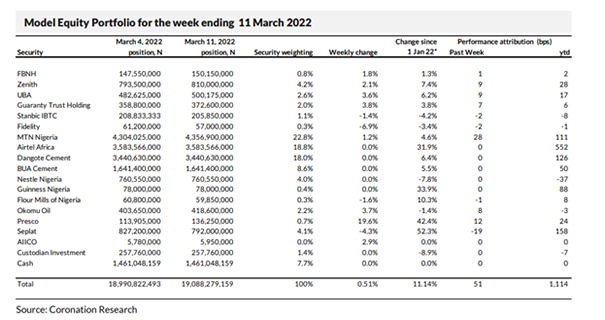 Our overweight notional position in MTN Nigeria delivered 28bps last week as the stock rose by 1.2% (a neutral position would have delivered 18bps). The two soft commodity producers in the portfolio also made positive contributions, with Presco delivering 12bps and Okomu Oil 8bps. By contrast, our double overweight notional position in oil & gas producer Seplat Energy cost 19bps, though with oil prices still high, we are minded to stick with this position for a while. As we pointed out last week, it is bound to volatile in these conditions.
If we observe exceptionally high liquidity in Custodian Investment, then we will attempt to take our notional position up to 2.0%. Otherwise, we plan no changes to the Model Equity Portfolio this week.