Monday, November 29, 2021 / 4:30 PM/ Release by FSDH / Header Image Credit: FSDH
It wasa full day of glamour, style, inspiration, and networking last Friday, as women(and men) from all walks of life converged at Eko Hotels in Victoria Island,Lagos. In commemorating the Women's Entrepreneurship Day on19th November, FSDH hosted the inaugural edition of herWomen in Business Initiative. Themed 'The Future-Focused Female', the event wasset up to create a platform that enables, encourages, and empowers womento thrive in their chosen endeavor.
Speakingto FSDH's legacy; the Managing Director, FSDH Merchant Bank; BukolaSmith acknowledged FSDH's commitment to engage, connect and empowerwomen through access to mentorship, finance, advisory amongst others.She also commended the efforts and roles of women in nation-building,wealth creation, and poverty reduction.
In herkeynote address, acclaimed architect, and business leader, Jumoke Adenowo encouragedwomen to gear up and adapt to the times, remain focused andidentify relevant opportunities within the African market. The event alsorecorded engaging panel discussions on health and selfcare, urgingwomen to be intentional about their wellbeing. This session was hosted by the delectableTomike Adeoye and had Bunmi George, Obiamaka Oragwu, and Dr. AleroAnn-Roberts.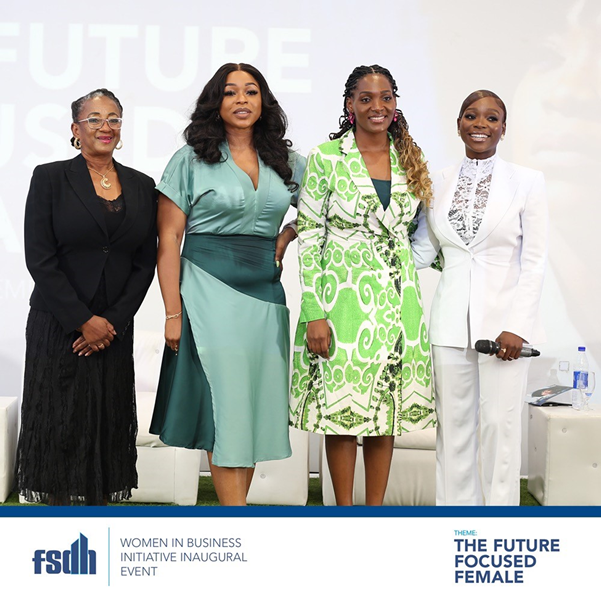 Thesecond panel session moderated by Kunle Osunkunle; HeadCorporate Banking, FSDH Merchant Bank had YasminBelo-Osagie, Thelma Ekiyor and Odun Eweniyi aspanelists focused on different ways by which womencould successfully navigate their finances, investments, business, andcareer without dropping the ball. Ms. Thelma Ekiyor, MD SME.NG, speakingon business and career, encouraged women to function from a place of hardwork, dedication, and merit rather than gender bias.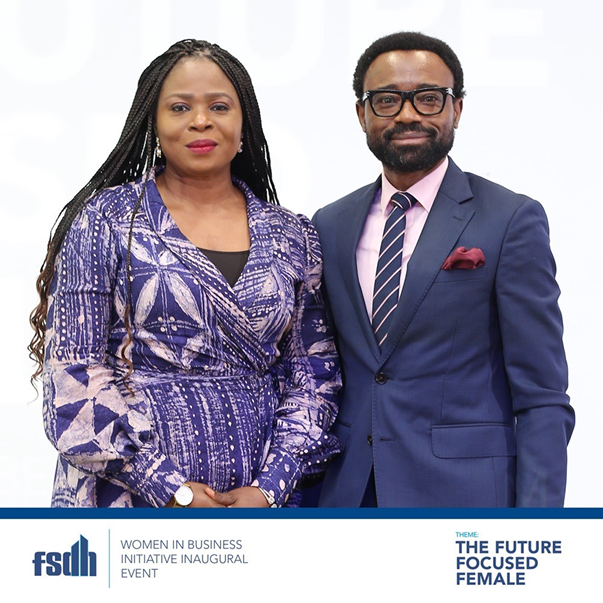 Duringthe event, FSDH restated its committed to empowering businesses and supportingeconomic growth. To further drive this support, the group announced a2-billion-naira funding for women led businesses in partnership withDevelopment Bank of Nigeria. In his briefpresentation, Bonaventure Okhaimo COO of DBN restatedtheir commitment to growing businesses, especially female-ledbusiness as he identified that they are at the centre of sustainableeconomic growth.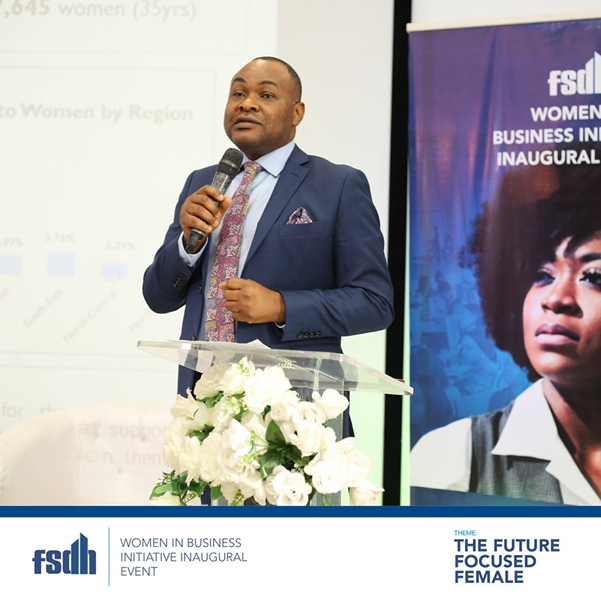 Withthe launch of the initiative, FSDH Group has made an entry into thewomen-business engagement space and is set to change the face offinancial service provision for women in Nigeria. Through its subsidiaries - FSDH Merchant Bank, FSDH Asset Management, FSDH Capital,FSDH Perophs and Pal Pensions; FSDH will continue tolead the charge for enabling enterprise and empowering women, their businesses,and careers.

Related News
1. FSDH Forum Explores Prospects forFuture-Focused Women
2. FSDH Group Set to Host Business andProfessional Women at the Women in Business Inaugural Event
3. FSDH Oil and Gas Sector Report: PIAand the Nigeria Economy - A Case of Too Little Too Late?
4. FMDQ Admits FSDH Merchant Bank's NewCommercial Paper Series
5. FSDH Funding SPV Plc Lists Series 1Bonds on FMDQ Exchange
6. A Changing of the Guard at FSDHMerchant Bank
7. BAFI Awards: FSDH Wins ResearchHouse of the Year Award
8. Equity Market to Sustain Pullback inJuly; FSDH Top Stock Picks
9. FSDH Asset Management launches theFSDH Dollar Fund
10. Minimizing the Impact of COVID-19,the New and Unexpected Shock to the Nigerian Economy - FSDH