Monday, November15, 2021 / 06:50PM /FSDH Group/Image Header Credit: FSDH Group

We are counting down tothe inaugural edition of the FSDH Women in Business Event themed "TheFuture-Focused Female- An initiative created to build a community ofempowered women in Nigeria. The event will be held in commemoration withthe Global Women Entrepreneurship Day on the 19th ofNovember 2021.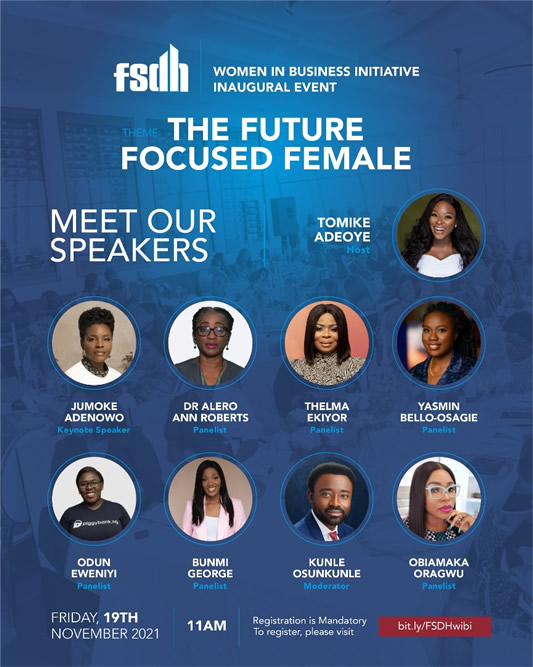 According to a 2016 Mckinseyreport, women could add as much as $28 trillion to the annual global GrossDomestic Product (GDP) by 2025. This therefore means that there needsto be deliberate and concerted effort at empowering womenglobally.
In Nigeria, FSDH Group seeks to dothat by providing access for women to grow their wealth, benefitfrom investment opportunities and to build a community of empoweredwomen who will empower other women.
FSDH Group, made up of FSDHHolding Company, FSDH Merchant Bank, FSDH Asset Management, FSDHCapital, FairPay Limited and Pensions Alliance Limited, is bringingtogether women leaders from various industries to have conversationsaround the verticals of an empowered woman and how shecan thrive in her finance, career, business andgeneral wellbeing.
According to the ManagingDirector, FSDH Merchant Bank, the goal of the event is to promote, support andempower the Nigerian woman. "We are building a multigenerational communityof empowered business and professional women through access to education,mentorship and finance and these women would also contribute to thesocio-economic growth of the country" - Bukola Smith MD/CEO FSDHMerchant Bank.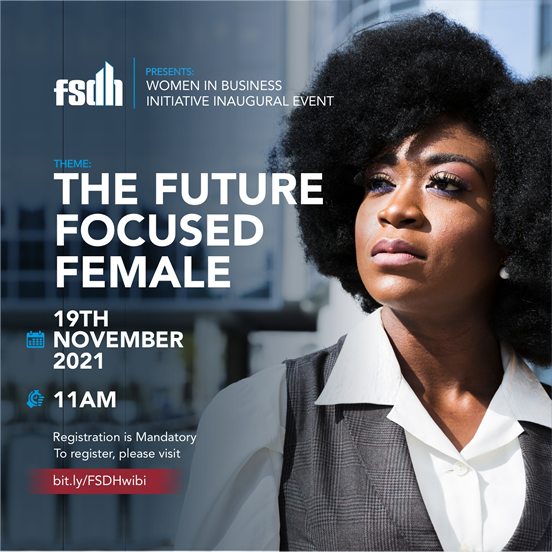 Holding on Friday 19th November,2021, the event willbe anchored by social medialady-rave; Tomike Adeoye and would host KeynoteSpeakers and Panelists like Jumoke Adenowo, Founder ADConsulting, Odun Eweniyi, Co-Founder PiggyVest, BunmiGeorge Founder Shredder Gang to mention a few.
Other key highlights of the eventinclude the launch of a N2 billion funding for women-led businesses inpartnership with SME.ng.
FSDH Group will continue to do itspart to encourage, enable and empower future focused women around thecountry. Join this event to support that drive.
Please click here to register for the event.
Join the Conversation using thehashtags #Futurefocusedfemale #FSDHWomeninBusiness, and follow theFSDH social media via @FSDHBank and @FSDHassetmanagement on Instagram, FSDHMerchantBank and FSDHAssetManagement onFacebook or www.fsdhgroup.comFor more details orenquiries, please email Emmanuella Awogu via [email protected] or call 08028972084.

Related News
1. FSDH Oil andGas Sector Report: PIA and the Nigeria Economy - A Case of Too Little Too Late?
2. FMDQ AdmitsFSDH Merchant Bank's New Commercial Paper Series
3. FSDH FundingSPV Plc Lists Series 1 Bonds on FMDQ Exchange
4. A Changingof the Guard at FSDH Merchant Bank
5. BAFI Awards:FSDH Wins Research House of the Year Award
6. EquityMarket to Sustain Pullback in July; FSDH Top Stock Picks
7. FSDH AssetManagement launches the FSDH Dollar Fund
8. Minimizingthe Impact of COVID-19, the New and Unexpected Shock to the Nigerian Economy -FSDH
9. FSDHWebinar: Sanwo-olu, El-Rufai, Obaseki Speak On COVID-19 Pandemic and LocalRealities
10. FSDH Groupto Engage 3 Nigerian Governors in a Webinar Session on May 22, 2020
11. FSDH Becomesfirst Merchant Bank Enlisted in the Lagos State EBS-RCM for Revenue Collection
12. FSDHMacroeconomic Outlook 2020: Accelerating Growth in the New Decade
13. FSDH Series1 Commercial Paper Is Now Open
14. Custom Duty Collecting Bank - CelebratingAnother First with FSDH Merchant Bank
15. Agenda ForThe New Federal Cabinet - FSDH
16. FSDH HoldsRoundtable on "Women, Money and Building a Financial Legacy" with DolapoOsinbajo
17. InflationRate May Rise to Highest Level Since January 2019 - FSDH
18. FragileBalance of Payment Position: Policy Options - FSDH