Wednesday,November 24, 2021 / 10.00AM / Ayomide Oguntoye for WebTV/Header Image Credit: WebTV


TheFSDH Merchant Bank recently hosted a forum to launch its Women In BusinessInitiative. The initiative was to build a community of empowered women inNigeria by providing access for women to grow their wealth and benefit frominvestment opportunities.
Theinaugural event, which had its theme "The Future Focused Female," centredaround the verticals of a woman, i.e., her wellbeing, self-care, finance,business and career, and had industry experts in attendance who discussed thedynamics of a Future-Focused Female.
Giventhat women play important roles as entrepreneurs, nation builders and catalystsfor sustainable development, the Managing Director mentioned that FSDH bankintends to support them through access to mentorship, finance, investmentadvisory, amongst others
"Thecommendable roles and efforts of women have continued to inspire others andpositively impact job and wealth creation," Mrs. Bukola Smith added.
Whilegiving the keynote speech, Jumoke Adenowo, Architect and serial entrepreneurspoke to the inaugural event's theme. According to her, a future-focused femalecan solve various Tsunamis; likewise, she thinks of Nigeria and has aglobal mindset. She added that entrepreneurship is the real deal andcritical driver of the economy, and a difference can only be feasible when itis policy-driven.
Tofinance the "Women in Business" initiative, Bonaventure Okhaimo, COODevelopment Bank of Nigeria, spoke on DBN's partnership with FSDH bank. Heoutlined how women can access and benefit from the N2bn fund provided for womenin business. This process, he said, would be in collaboration with the NigerianSMEs as they would be providing the list of beneficiaries. At the same time,FSDH bank would see to the disbursement of the funds to these beneficiaries.
Panelists at the event, Bunmi George, Founder, Shreddr Gang, Obiamaka Oragwu, Founder, Wardrobe Merchant & Dr. Alero Ann Roberts, Punblic Health Expert, provided their perspective on the importance of good health, self-care and total wellbeing for a future-focused female, highlighting healthy tips to to living intentionally. According Dr. Alero Ann Roberts, health may not be everything until you do not have it.
Other Panelists at the event, Thelma Ekiyor, Managing Director, SME.NG & Odun Eweniyi, Co-Founder, PiggyVest, addressed issues relating to finance and career. They believed that financial literacy is vital, and this is the decade for female entrepreneurs.
Related Video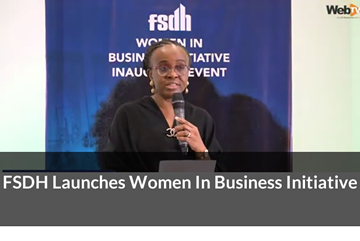 Related News