Thursday, April 15, 2021 / 09:34 AM / MSME Africa Group / Header Image Credit: MSME Africa Group

The thirdedition of MSME Dialogue will take place on Saturday, April 24, 2021, at 10 am (WAT).Experts at the virtual event will provide insights while discussing the theme:Powering MSMEs with Technology and Digital Transformation.
The event,which is organized by MSME Africa, is expected to have owners and managers ofMicro, Small and Medium Enterprises, Entrepreneurs and Business owners fromdifferent sector in attendance.
MSME Dialoguewhich holds every quarter, seeks to address, burning and relevant
issues about entrepreneurship and running asmall business as well as proffering solutions to those issues.
The event aims to provide the right knowledge and know-how for MSMEs,Entrepreneurs, and Startups to enable them to grow and thrive and featuressubject matter experts, seasoned entrepreneurs, professionals, and playerswithin the MSME Ecosystem.
The speakersexpected at the event are: Akeem Lawal, Divisional CEO, Interswitch Group, RexMafiana: CEO, FPG Technologies, Fatma Nasujo, Global Head of OperationalExcellence at Sokowatch, Kenya, David Lanre Messan, CEO, FirstFounders, BisoyeCoker, CEO/Co-founder, Kiakia FX. The session will be moderated by SolapeAkinpelu: CEO/Founder, HerVest.
According tothe convener of the event who is also the founder of MSME Africa, SeyeOlurotimi "Every business owner who is serious with their business would agreewith me that technology and digital transformation are important factors forbusiness growth and success. We all can't all run or won Tech startups but wecan always drive our businesses and operations with Technology and DigitalTools".
"Tech-drivenBusinesses are making waves and turning in almost unbelievable results againstall odds. Businesses who have embraced technology, automation and digitaltransformation are enjoying unquantifiable advantages. It is because of thisthat I am calling on business owners and managers to join us at the 3rd Editionof MSME Dialogue, on Saturday, April 24, 2021, at 10 am (WAT), as we bring in expertsto provide insights on this theme" Olurotimi added.
MSME Africa isa multi-faceted resource platform for Micro, Small, and Medium Enterprises(MSME) in Africa providing capacity development, news, opportunities, businessarticles and other resources for MSMEs, entrepreneurs, and startups.
Olurotimi said the platform was poised to build the biggest network andcommunity of MSMEs in Africa in the nearest future.
Intendingparticipants can register via http://bit.ly/MSMEDIALOGUE3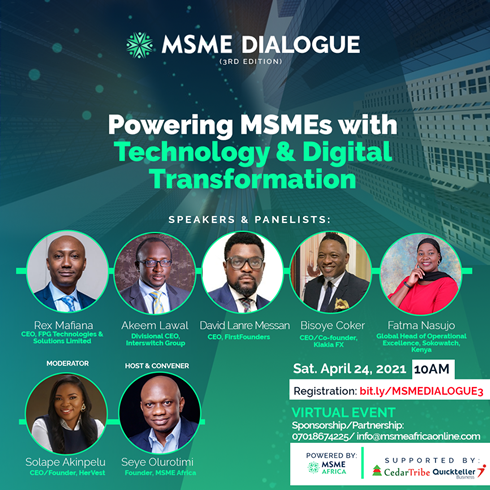 RelatedNews
1. AWMS 2021 to DiscussAccelerating Adaptation of Modern Workforce Techniques
2. AWMSSummit 2021 To Discuss Accelerating Adaptation Of Modern Workforce Techniques
3. FITCConference: The Value of Building Optimum Employee Experiences
4. FirstbankSet to Hold its FirstGem Annual Conference 4.0 on Wednesday, March 31, 2021
5. FITCConference: How COVID-19 Has Led to Innovation in Employee Engagement
6. FITCto Host Africa's Biggest Employee Engagement and Experience Conference
7. NSE,IFC to Host CEO Roundtable on Gender Equality
8. MSMEDialogue 2.0 to Host Founders of Farmcrowdy and So Fresh, Others
9. Wimbizencourages Women to Rebuild, Recalibrate and Embrace the Shift
10. WIMBIZ19th Annual Conference
11. FBNInsurance Brokers Hosts Webinar to Sensitise SMEs on Risk Management and CyberSecurity
12. TheFirst Pan-African MSME Academy Webinar in Nigeria to hold on September 03, 2020
13. CBiNigeria to host MSME Training on the CAMA Act 2020 and its Requirements forBusinesses