Sunday, February 07,2021 / 05:30PM / Data Science Nigeria / Header Image Credit: Data Science Nigeria


Apicture is worth a thousandwords. Or, in this case, a picture is worth thousands of lines of data.As data volume inevitably increases, visualization manages influxes of new informationand makes it easy to findtrends, detect outliers, provide context, and make strategic data-drivendecisions.
TheData Visualization training will provide aproject-based hands-on approach to Mastering Microsoft PowerBI for turningnumbers into inspiring stories and creating compelling Data dashboards fordriving strategic data-driven decisions.
Toparticipate in this training, kindly register HERE http://bit.ly/DSNCourses
What you will learn
How to connect,impo

rt

, shape andtransform data for Business Intelligence

Visualize data,author reports, and schedule automated refresh of your reports

Create andshare dashboards based on reports in Power BI desktop

Using naturallanguage queries

How to createreal-time dashboards using natural language queries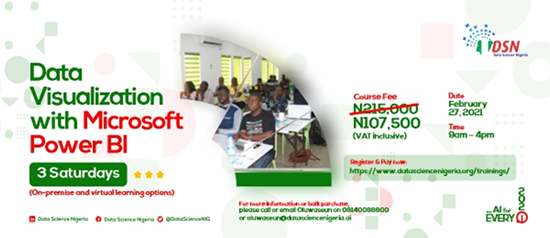 Course Outline
Week1
Understandingkey concepts in Business Intelligence, Data Analysis and Data Visualization

Overview ofPowerBI functionalities and services

Connecting toand importing Data

Transformingand Modeling Data
i. Power BI Desktop Queries
ii. Shaping and Combining Data
iii. Relationships
iv. DAX Queries
Enriching Datawith Business Calculations

VisualizingData
Week2
VisualizingData and Authoring Reports

Reportautomated refresh scheduling.

CreatingDashboards based on Reports and Natural Language queries

Publishing andsharing dashboards

Creating andleveraging on custom visualizations in Microsoft PowerB
Week3
Recap oflessons

Live individualPresentation of Capstone project

Feedback andguide on how to present Data Visualization projects
Post Training Support
Enrolment intothe Global Data Science Nigeria Community: AI+ Professional community, DSNLadies in AI, AI+ Research community.

Directenrolment into the Data Science Nigeria recruitment and talent placement pool

Projectparticipation and internship opportunities

Participationin local and international hackathons and ideathons

Personalized vi

rt

ual trainings andmentorship (premium)

Access to copyDSN AI Knowledge Box, a collection of 15,000+ AI learning videos and datasetsfrom top schools and organizations including MIT, Stanford, Oxford, Google,Amazon, Intel, Microso

ft

,Nvidia, etc.
Forenquiries, you can send a mail to [email protected] or call orsend a message to +234 902 407 5284
Related News
1. First Bank Deepens Financial Inclusion with Largest AgentBanking Network, Empowers SMEs
2. FCMB Deepens Financial Inclusion, Opens Ultra-Modern CashCentre At Ikorodu, Lagos
3. Ecobank MD, Others List Opportunities in Digital FinancialInclusion
4. 16.8% Financially Excluded Nigerian Adult Must be Broughtinto the Inclusion Bracket by 2020
5. Leveraging Non-Interest Finance for Financial Inclusion
6. Ecobank, Vanguard Announce New Date for Digital FinancialInclusion Summit
7. PSBs as the Key to Driving Financial Inclusion?
8. Firstbank Promotes Financial Inclusion Amongst Childrenwith Kidfirst and Mefirst Accounts
9. Leadway Partners AWABAH to Provide Financial Services toThe Informal Sector
10. WFIS Africa: World Financial Innovation Series 2020
11. Alan Sinfield, and Other Professionals to Speak at EcobankDigital Financial Inclusion Summit
12. Nigeria Faces Significant and Growing Gender Gap inFinancial Inclusion
13. Data Science Nigeria Wins the Best Poster Award at theGlobal EC20 Conference
14. Firstbank Empowers Women Through Firstgem Online Community
15. Identification Management: The Key to Digital andFinancial Inclusion in Nigeria
16. The Implication Of COVID-19 On Financial Inclusion AndFinancial Literacy
17. CBi Nigeria to host Webinar focused on Nation Building andData Management
18. COVID-19 Rebound: Building Entrepreneurs and SupportingFinancial Inclusion Through Xpress Point
19. Regulatory Flexibility and Agency Banking Will EnhanceFinancial Inclusion in Nigeria - Henry Chukwu
20. Ahead of Tomorrow on WebTV: Discussions on COVID-19;Deepening Financial Inclusion in Nigeria