Tuesday, April 20,2021 / 06:57PM / byCSL Research / Header Image Credit: NIPC

The Nigerian Investment Promotion Commission (NIPC) ina recent report titled "Book of States 2020" highlighted the investmentprospects of the 36 states of the federation including the Federal CapitalTerritory (FCT) to steer attention to the subnational investment opportunitiesin Nigeria. We note that the report is an outcome of a partnership between thecommission and the Nigeria Governors' Forum (NGF) to showcase the keyinvestment opportunities for each state.
The report focused on the key areas of physicalcapital (airports, railway stations and seaports), resources (natural andminerals) and demography (population and labour force) of each state includingtheir Internally Generated Revenues (IGRs), budget spending and householdconsumption. While we acknowledge the decrepit infrastructure as a majorhindrance to the growth of businesses and economic prosperity of many states,we note the little emphasis placed by the states on financing capital projectsto attract private sector investments. Over the years, state governments havebeen heavily reliant on FAAC distribution to meet recurrent expenditure, thusmaking no room for capital spending.
The truth is that as long as state governments do notmake desperate efforts to develop their internal revenue-generating capacity,the states in the country would continue to operate an inefficient rentcollection system where they rely solely on FAAC allocation to meet basic needssuch as paying workers' salaries. In our view, we believe the efforts to revivethe ailing status of many states depend on the effectiveness and soundness ofpolicies made to propel investments. Currently, Nigeria has enormous potentialsto improve tourism given its ample amount of resources to attract both localand international tourists. Many countries in the continent such as SouthAfrica, Kenya and Morocco have made great fortunes from tourism.
Over 50% of the states have recorded no foreign directinvestments over time due to little or no requisite infrastructure needed toattract capital inflows amid untapped resources in these affected regions.Also, we believe the Federal Government needs to relax its control on some ofthe state-owned resources to enable the states better exploit these resources.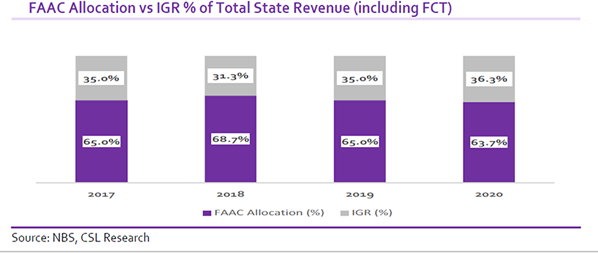 Related News