Wednesday, April 14, 2021 / 01:08 PM / by BudgIT /Header Image Credit: BudgIT


The cumulative actual expenditure for all36 states grew by 2.73% from N5.12trillion to N5.26trillion between 2018 and2019 fiscal years. Actual recurrent expenditure and loan repayments grew by4.75% from N3.17trillion to N3.33trillion within the period. The rising nature ofNigeria's sub-national government expenditure is expected to yield economicgrowth, but over the years, analysis of states' fiscal data has shown that growth in public spending has not translated meaningfullyinto economic performance as there's still a high rate of unemployment,decaying infrastructure, and worsening poverty rate.
State governments' recurrent costs have increased significantly over theyears with only a small portion of collected revenue and loans dedicated tomeet capital 36.73% or N1.93trillion of the N5.26trillion total expenditure in2019 was dedicated to capital expenditure while 63.27% or N3.33trillion went torecurrent expenditure and loan repayments. Year on year, between 2018 and 2019,actual expenditure on capital projects for all 36 states reduced by -0.57%,from N1.94trillion to N1.93trillion. This is a worrying sign as Moody'sInvestors Service estimates that Nigeria's infrastructure, which is significantly behind those of emerging marketpeers, needs an estimated $3trillion over the next 30 years to close the gap;this is the equivalent of spending N38 trillion per year for the next 30 years.(Exchange rate N380/$1).
Of course, not all the funding to close Nigeria's infrastructure gapwill come from the state government; the federal government and even theprivate sector have roles to play, but clearly, state governments need to dobetter. They need to restructure their spending, increase spending on capitalprojects, comparatively reduce recurrent expenditure to a sustainable level,and ensure effectiveness of all expenditure. It is not to say that spending on recurrent expenditure is unimportant becauseworkers' salaries and retirees' pensions need to be paid, but over time bloatedoverhead components of many states' recurrent expenditure crowds out much-needed spending on infrastructure. In 2019, 11 statesspent more on overhead costs than on capital expenditure, worsening the infrastructure deficit in those states.
Nigeria's desired economic growth can be achieved if the recurrentexpenditure component is optimised while the spending component going tocapital infrastructure especially in the economic and social sectors isprioritised.
According to 2019 state fiscal data, only 11 states actually spent over50% of their budgeted capital expenditure in the fiscal year. Further analysisalso shows that 8 states could not meet their recurrent expenditure with their available revenueswhich include IGR and Gross FAAC, thereby creating a risk for public debt build-up
Furthermore, 31 states gave more attention to their recurrentexpenditure than capital expenditure. This spending pattern is not sustainableas this has opened gaps in providing quality healthcare services and educational systems, thus slowing down social developmentas well as growth in other key areas of the economy.

Capital Expenditure
The need for subnational governments to invest considerably in impactfulcapital expenditure has never been more urgent, especially with the attentionof its citizenry tilting towards the short and long term service deliverybenefits of capital infrastructure in their locales, Many citizens are moreaware of the direct, and in some cases, indirect impact of governmentactivities on their lives and livelihood.
It is a no-brainer that the government's capital expenditure, whethernational or in this case, subnational, plays a key role in how effective itseconomy functions. In more simpler terms, the more the government spends on infrastructure, the better the performance outputof its economy, thereby impacting economic growth. Whereas, recurrentexpenditure focuses on the running cost of government, such as payment ofsalaries, and pensions and overheads, capital expenditure on the other hand,deals with investing in infrastructure and assets that have short and long-termbenefits in stimulating economic growth, as well as improving the lives andliving conditions of the general public.
As the COVID-19 pandemic ravages its way across the world, with Nigerianot spared, state governments in Nigeria have been forced to see the need toinvest largely in adequate infrastructure, not only in its health sector, butalso, in other sectors like education and transportation. A lot of states havecome under scrutiny, especially with the dilapidated state of infrastructureneeded to combat COVID-19. This, expectedly, has drawn a lot of attention tohow state governments utilise their resources, and ultimately, how much theyspend on capital expenditure vis-a-vis the current reality and needs of thepopulace.
Inasmuch as capital expenditure is important for the economic growth ofsubnational states, understanding the peculiarities of the state, as well asthe realities and needs of the public will be important to assess the kind ofinfrastructure the state government should implement. Nigerian stategovernments have a simple task: understanding that not all capital obligationsare viable economically. This will go a long way to determine how useful stateproposed capital investment will impact citizens' living standards. Thisknowledge will prove whether states' capital investments will augment economicgrowth, or be another needless "white elephant project", a colossal waste ofpublic funds.

Capital Expenditure Performance
Although, it is a common point to note that budgeting of an amount doesnot automatically translate into disbursing of allocated funds, the salientreasons, why state governments fail to meet their capital expenditure obligations, is majorly attributable to a general inadequatelack of planning. Sadly, these fundamental issues or gaps are not just limitedto poor funding/ revenue generation, but can also be linked to other underlying factors like inadequate budget planning process, a lackof informed knowledge of the current realities of the macroeconomic environment,and a huge politicisation of project implementation.
As shown in Appendix 1, there is a huge disparity between stategovernments' budgeted capital expenditure amounts and the actual performance ofits capital expenditure in the 2019 fiscal year. Out of the 36 states of thefederation, only 11 states performed over the 50% average with Kaduna toppingthe list with 97.53%; followed by Yobe State with 76.21%, Rivers state with74.53%; others are Lagos, 69.81%; Jigawa, 67.99%; Abia, 65%; Delta, 59.01%; Enugu, 57.28%, Anambra, 53.92%; Kwara,52.31% and Gombe state with 50.41%. It is also sad to see that 12 states have acapital budget performance less than 30%. A major reason is also the lack of budget realism across states in Nigeria. Forexample, Cross River had 2.78% performance due to its bloated projections ofN1.04tn. As seen also in the federal government, most states project highbudget numbers only to meet the recurrent expenditure component due to its "compulsory" payments to staff and running of government, which starveopportunities to expand capital projects.
Over the years, the sub-national governments' actual capital expenditurespend has consistently fallen lower than their budget targets. This hasparticularly become a common trend, whereby state governments fail to meettheir capital expenditure obligations, usually by a huge percentage.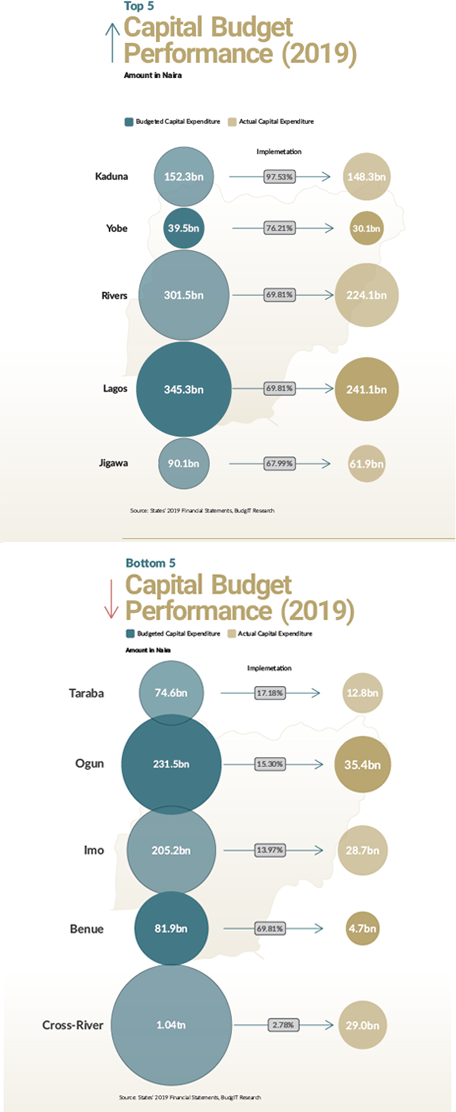 Related News