Tuesday, April 20,2021 / 10:40AM / byFBNQuest Research / Header Image Credit: NBS


TheNBS has published its report on internally generated revenue (IGR) at statelevel for Q4 '20. According to the report, in 2020 aggregate IGR for the 36states and the FCT was NGN1.31trn, compared with N1.33trn the previous year. InQ4 alone it stood at N335.3bn vs N338.6bn the previous quarter. The data showthat 14 states and the FCT recorded q/q growth in IGR during the period underreview. Lagos emerged again as the leading state, accounting for 31.8% of totalIGR in Q4 '20. Our default source of this data is the CBN. However, the CBNseries is dated.
For FY 2020, the highest contributorsto aggregate IGR for the 36 states were Lagos state (32.1%), Rivers state(9.0%) and the FCT (7.1%). Meanwhile, Yobe, Taraba and Adamawa each accountedfor less than 1% of total IGR in 2020.
The breakdown of IGR shows thataggregate Pay As You Earn (PAYE) income tax accounted for 62% of total IGR inQ4 '20. For FY 2020, PAYE accounted for 65% of total IGR. Gombe, Jigawa, Ekitiand Kebbi states underperformed with regards to revenue generated from the PAYEsystem. These states each achieved less than 1% of total aggregate PAYErevenue.
The informal sector is dominant acrossstates in Nigeria. The size of the informal sector in Nigeria is estimated atabout 65% of total GDP and consists of activities that range from agricultureto mining and quarrying, small-scale building and construction and lightmanufacturing. The underperformance seen in the PAYE segments, particularly forthe states listed above can be hinged on most working indigenes falling outsidethe tax net. Formalising the informal sector and by extension, widening the taxnet will assist with boosting PAYE revenue.
The trend across expenditure profilesof most states is overdependence on their respective payouts from theFederation Account Allocation Committee (FAAC). The NBS data show that in 2020,total FAAC payouts to the 36 states accounted for 64% of aggregate totalrevenue.
Lagos state raked in more internalrevenue (N419bn) compared with FAAC payouts (N116bn) received. This is notsurprising, given its relatively strong tax collection system. Ogun state wasalso able to generate more revenue internally as opposed to relying heavily onFAAC payouts. In 2020, FAAC payouts accounted for 43% of total revenue in Ogunstate.
By boosting their IGR, stategovernments could pursue more ambitious capital programmes. The FGN's primaryobjective should be to create a conducive business environment as IGRsustainability is a by-product of an enabling environment.
Internally generated revenue of states, Q4 '20 (% shares) Total: N335.2bn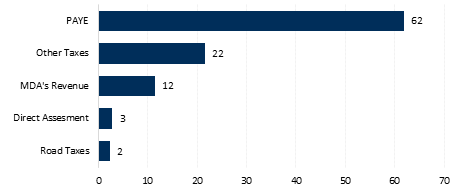 Sources: National Bureau of Statistics (NBS); FBNQuest Capital Research

Related News