Wednesday, November 10, 2021 / 10:05 AM / by FBNQuest Research / Header Image Credit: FBNQuest

TheNBS has released its report on internally generated revenue (IGR) for 1H '21.As well as the data by individual state (see below), it shows revenue bysource. Since companies' tax is the responsibility of the FGN, the largestsource for the states is the collection of PAYE (pay-as-you-earn). The secondis the revenue gathered by the states' ministries, departments and agencies(MDAs). Self-assessment (for the self-employed and small businesses) comes avery distant third. The category of others in the table includes road tax, landregistration dues, lottery fees, stamp duty and consumption tax for hotels andrestaurants. Taxes on what we might term the microeconomy are collected bylocal governments. For large companies such as the mobile operators, multipletaxation is a sensitive issue.
Thecollection of IGR by state tells a familiar story. Lagos alone accounted for31.5% of the total and collected almost four times the number two in the table(the FCT's 8.1%). The next three collected between NGN40bn and NGN60bn in thehalf-year. The balance of NGN359bn combines the remaining 32 states. Yobe Statemanaged just NGN4bn.
Lagoshas more businesses, and more middle and high-income households to tax, andtherefore tops the table. Other states are not so fortunate: however, in manycases they could do more to improve tax administration and attract newinvestors.
States' collection of IGR is on an upward trend and, according to the last consolidatednumbers we have seen, represents about one quarter of their total revenue. Tobe schoolmasterly just once, there is room for improvement.
Ourcommentary on the monthly payout from the Federation Account AllocationCommittee, the main source of funds for all states with a few exceptions suchas Lagos, routinely makes the point that the distribution is inadequate. Lastmonth the
Statesreceived NGN274bn (including NGN54bn for the oil producers) whereas theiraggregate monthly spending averaged NGN397bn in 2019 (GoodMorning Nigeria, 02 November '21). The dispute in the courts betweenthe states and the FGN over the collection (and distribution) of VAT is anothermark of the squeezing of subnational finances.
TheNBS and the Joint Tax Board together derive their data from state governments' revenue boards. The CBN also covers state government finances: its data are notstrictly compatible with the NBS reports and have become less timely.
States' IGR by source (H1 '21; % shares)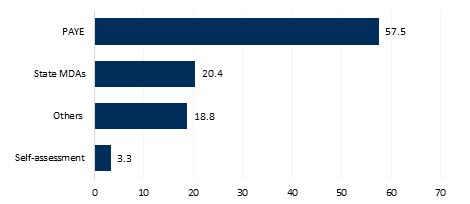 Sources: National Bureau of Statistics (NBS); FBNQuest Capital Research

Related to IGR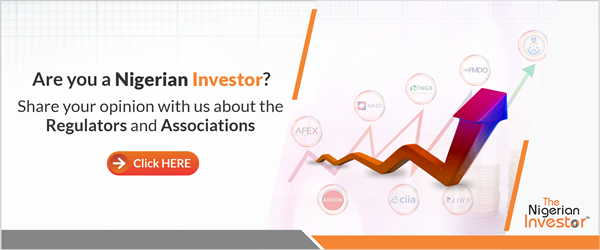 Related News on State and Local Govt